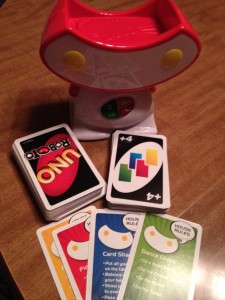 A brand new twist on a family favorite. UNO is one very loved game and nearly everyone I've ever met has played it. If you are going on vacation it is so easy to drop a deck of UNO cars into your bag because you can play anywhere. Now UNO has an all new Wildcard. I'm happy to introduce my family to UNO Roboto!
UNO Roboto is fast, fun and full of surprises. Each player records their name into UNO Roboto and then it is time to record a "House Rule". I've never played with house rules before but this was fun. You can record something like everyone has to touch their nose and the last person to do it has to pick 2 cards. Now that the names are recorded UNO Roboto picks the first player and play begins. You play UNO as you normally would but occasionally UNO Roboto will stop the game play and ask a player to do something special. Two players may have to duel it out and the loser picks up some cards. A player may even be asked to discard all the cards of a particular color or even pick up cards until they get a particular color. UNO Roboto is unpredictable and really fun. We'll be enjoying this on many family game nights to come.
If you'd like your own UNO Roboto then enter to win below.
Please use the rafflecopter widget and follow all of the directions. The first direction is to leave a comment on this post (scroll to bottom to the comment section) after you've visted the UNO Website and tell me what UNO house rule your family has. Then click the "I did this" button on the rafflecopter widget. You can gain more entries by doing other tasks after that. But you must do the first steps to enter.
Disclosure: I received a copy of this toy to review and blog about as well as give away as part of the SwagsGiving Event. Opinions about the toy are 100% my own.
Copyright (c) 2020 BenSpark Family Adventures