Photo-A-Day #2560
This morning Eva and I went over to the Capron Park Zoo. We first stopped at the playground and she had the run of the place for a while. She's getting so much more sure of herself and is able to climb around on the playground very well. She met a little boy named Lucas and they played together all over the playground and then we went into the zoo with he and his mother. The kids got along very well and they had lots of fun.
Allison came over and the six of us went around the whole zoo. We saw so many of the animals active today. We were early enough to catch the animals doing all sorts of things and we even saw the Two Toed Tree Sloth and we never see that animal. The Lions roared a number of times and the Lemurs freaked out a bit too. It was fun and we learned that our membership ends at the end of the month so we are safe to get discounts while on vacation at the West Palm Beach and Miami Zoos.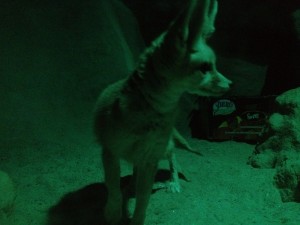 The Fennec Fox at Capron Park Zoo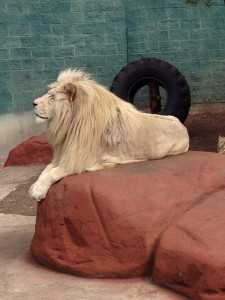 Ramses the White Lion at Capron Park Zoo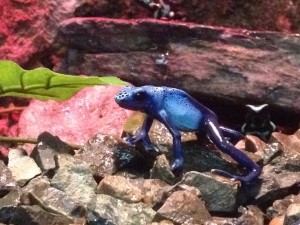 Poison Dart Frogs at Capron Park Zoo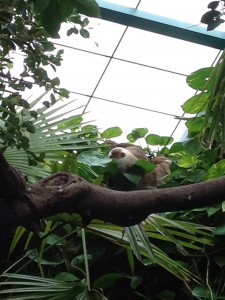 Two Toed Sloth at the Capron Park Zoo
This afternoon I worked on some long overdue items, like taxes. Yeah, I haven't gotten them done. Nothing like waiting to the last minute. Ever since we moved I haven't been as obsessive about filing all the bills and receipts and everything and well, it got away from me. So, I spent the afternoon organizing all those things while I watched two episodes of Deadwood and then started the taxes.
We had some Joshnsonville Brats for dinner and I learned that the name of the blogger panel that I'm part of has changed. it is no longer called Johnsonville Grill Greats but instead is called "Big Taste Grillers". So, I'm part of the Big Taste Grillers blogger panel for Johnsonville.
Today I was a guest poster on the Alex Toys blog. Eva and I did some arts and crafts from Alex Toys. We did the Clothespin Farm and the Pop Stick Art sets. Alex Toys have some great craft kits that are so easy for pre-school kids to work on. Eva even did a bunch herself.
Copyright (c) 2020 BenSpark Family Adventures