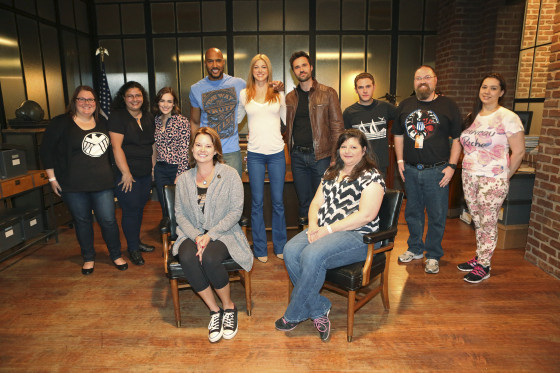 I attended an expense paid trip by Disney to press events for Marvel's Agents of S.H.I.E.L.D. (#ABCTVEvent, #AgentsofSHIELD), all opinions as always are 100% my own.
I've had many very cool experiences because of this blog. One such experience was being on the set of Marvel's Agents of S.H.I.E.L.D.. I was there for a set visit and also to be part of a couple of group interviews with members of the cast. There were 24 other bloggers along as well and we had a once in a lifetime tour of this top secret set. The production really does take the whole secrecy angle of the world of Agents of S.H.I.E.L.D. to heart. Even as I write a number of posts about the experience there are things that I must keep undisclosed like a real spy.
But, I'm no spy, I'm a blogger and a complete fan of Agents of S.H.I.E.L.D.. I have been a fan since the very first episode. I stuck through as the show found its footing and then hit its stride. Now it is very highly anticipated and each week brings something new and interesting. The thing that I like about it are the complex relationships that the characters have with each other. The character that I most identify with is Agent Fitz. His relationships with three other characters have been a source of many moments of triumph and despair. In the first season Fitz looked up to Agent Grant Ward like a big brother. They had one intense op in the first season together and bonded. Then Ward betrayed S.H.I.E.L.D. and attempted to kill Fitz and Simmons. That betrayal left Fitz with a major brain injury.
Then in the second season we learn that Fitz has this brain injury from his being trapped underwater by Ward. He and Agent Simmons had been a team that was so close that they were referred to as Agent Fitz-Simmons. The two pulled apart from each other at the beginning of the second season and they have had many disagreements. A new character from season two that became friends with Fitz was Mack. Mack helped Fitz heal and come to terms with his injury while also bringing him back into the team as an integral part. But then Mack was revealed to be a part of the "Real" S.H.I.E.L.D. and Fitz was betrayed once again. Continue reading Relationships are at the Heart of Marvel's Agents of S.H.I.E.L.D. – Cast Interviews →