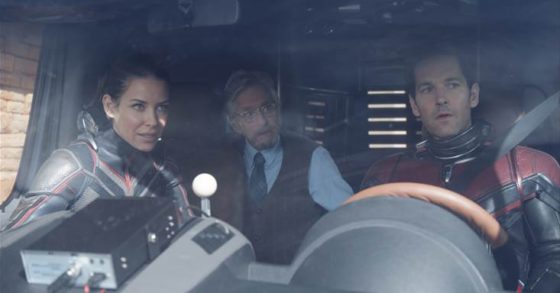 I was scanning Instagram yesterday and saw the very last thing of the ANT-MAN AND THE WASP movie and so I had to get to the theater before any other spoilers headed my way. So, I hopped on Fandango and grabbed a ticket for the 6:20pm show that night. I contacted my boss and said I was using some personal time at the last minute and got to the theater. Many times when I see movies I go first thing in the morning so I can watch the movie and sleep and then go to work. Yesterday, however, we were coming back from the Cape and I didn't think I could catch the movie, but I did. I'm glad that I did. The movie was a great sequel and so much fun. Seeing it with a bunch of other people who were into it and laughing made it better.
Before you see the movie check out this featurette. There are no spoilers in it, I assure you. Then I'll tell you a bit more about the movie and what I thought.
"Powers" featurette:

From the Marvel Cinematic Universe comes ANT-MAN AND THE WASP, a new chapter featuring heroes with the astonishing ability to shrink. In the aftermath of CAPTAIN AMERICA: CIVIL WAR, Scott Lang grapples with the consequences of his choices as both a Super Hero and a father. As he struggles to rebalance his home life with his responsibilities as Ant-Man, he's confronted by Hope van Dyne and Dr. Hank Pym with an urgent new mission. Scott must once again put on the suit and learn to fight alongside the Wasp as the team works together to uncover secrets from the past.
ANT-MAN AND THE WASP is directed by Peyton Reed and stars Paul Rudd, Evangeline Lilly, Michael Pena, Walton Goggins, Bobby Cannavale, Judy Greer, Tip "T.I." Harris, David Dastmalchian, Hannah John Kamen, Abby Ryder-Fortson, Randall Park, with Michelle Pfeiffer, with Laurence Fishburne and Michael Douglas. Continue reading ANT-MAN AND THE WASP Have Landed In Theaters! →