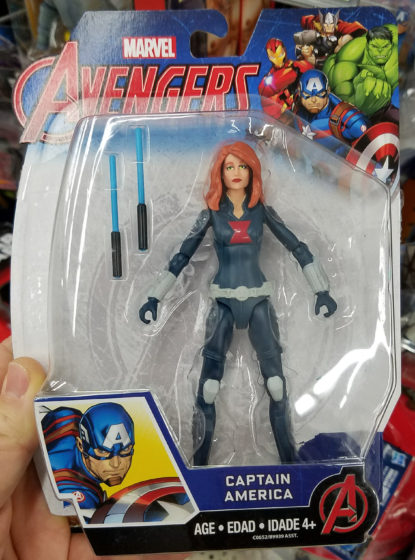 Check out this cute Stop Motion video featuring the Marvel Action figures. It is part of a campaign around the toys that will be coming from the brand. I did see some action figures around the $7.99 mark that look really nice, sort of the size that old action figures were and with some decent articulation, too. It looks like the one above which I found in an oddly mis-marked package recently. And No, I did not buy it, I should have done so. The video below makes me want to go buy a bunch and try to make some stop motion videos myself.
Marvel Unveils "Heroes Come In All Sizes" Retail Campaign for Spring 2017
Spring Focus Brings Together New Story Content, Brand-Driven Marketing, and Exciting Product Releases Celebrating Heroes Everywhere
Glendale, Calif. (February 7, 2017) – Building off three years of success for Marvel's Super Hero Spectacular retail event, Disney Consumer Products and Interactive Media (DCPI) is debuting an all-new retail campaign in Spring 2017 tailored to heroes everywhere. "Marvel Heroes Come in All Sizes" is a celebration of Marvel Super Heroes – and everyday heroes – across a broad spectrum of merchandise, new story content, digital storytelling, and collaborations all reinforcing the idea that the best way to measure a Super Hero is by the size of their heart. The campaign will package content with brand-driven marketing and new product releases to drive Marvel retail placement for fans of all ages.
"Whether you are big like Hulk, small like Ant-Man or smart and quick-to-action like Black Widow, Marvel truly has a hero for everyone," said Paul Gitter, senior vice president, licensing, Marvel at Disney Consumer Products and Interactive Media. "From young kids to teenagers, to a casual fan or a diehard adult collector, Marvel Heroes Come in All Sizes showcases that there is no singular definition for a hero and that our diversity is what makes us so powerful."
Spring 2017 will bring a wealth of new Marvel storytelling spanning home entertainment, television, publishing and digital content, all highlighting the theme "Heroes Come in All Sizes." Fans will be able to enjoy Marvel's latest cinematic hit Marvel's Doctor Strange at home with the Blu-Ray and DVD release on February 28th, while Marvel Publishing launches the new Monsters Unleashed! comic series and Disney Publishing releases the first novel for young readers featuring Squirrel Girl in The Unbeatable Squirrel Girl: Squirrel Meets World and a picture book featuring Baby Groot. On the small screen, fans will be able to catch the season 3 finale of Marvel's Ultron Revolution and the season 4 finale of Marvel's Ultimate Spider-Man Vs. The Sinister Six. More Marvel favorites will be returning to television with the season 2 premiere of the Marvel's Guardians of the Galaxy animated series and the premiere of new "Rocket and Groot" video shorts. Continue reading Marvel's Heroes Come in All Sizes Campaign with Video →