That is an odd subject line for this post, but I came by way of the latest awesome prize in the Ultimate IZEAFest Prize Pack Contest through my friendship with Jennifer Leet of The Dirty Shirt. Jennifer is one of the members of the "I'm Not A Famous Blogger" IZEA Insiders Crew. We met this past May at Downtown Disney and are going to be hanging out again soon at IZEAFest. Jennifer's Blog, The Dirty Shirt, is one that you should have on your feed reader because she has a constant stream of contest posts for amazing product. She was able to secure two brite-Viewâ"¢ CinemaCubes, one for a contest on her blog (I hope I win) and one to supply to my Ultimate IZEAFest Prize Pack Contest.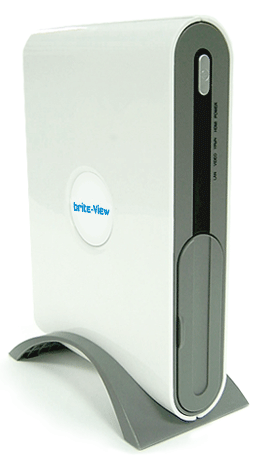 What is the brite-Viewâ"¢ CinemaCube?HD Multi-media Playet and BitTorrent Downloader*
CinemaCube is a multi-format Audio/Video Media player, with resolution up to 1280X720 HD (720p). It supports RM, RMVB, MP2, AVI, H.264, VOB, MOV, MKV, DivX, Xvid, WMV video formats, MP3, Real Audio, FLAC, AAC, OGG, WAV audio formats and JPEG, GIF, BMP, PNG image formats.
It can play media files from plugged USB storage devices or from computers in the same network. With built-in bittorrent p2p file sharing engine, you can share/download media files on the Internet without having to turn your computers on.
This little device would be something any techno-geek would love to have in order to play all their media on their TV. I'd certainly like to have one so that I could watch some of the podcasts I've downloaded, along with other videos and it would be great for viewing my photos as well. I'm really appreciative to Jennifer and to Zinnet, Inc the makers of the brite-Viewâ"¢ CinemaCube for their generosity in helping me providing this awesome prize for this contest!