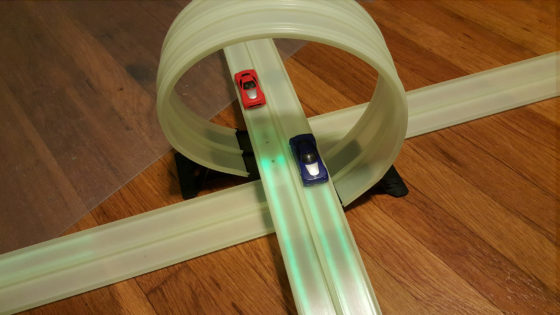 Photo-A-Day #4626
We received the MAX TRAXXX Infinity Loop Set for free to play with and review. These are our honest opinions. We also have a link to buy this set and others through our Amazon.com affiliate link at the end of this review.
When I was a kid I had a race track set. It was that hard plastic that snapped together and the cars sat on the trace with a little pin that fit into the slot of the car's track. You used these trigger remotes to make the cars go. You could also make the track into a couple of different designs but the best was always the crazy eight. My track did not have a loop but I loved playing with the cars. You had to have some skill, however or the cars would go flying off the track at high speeds. I don't think I've been able to find a car racing set that doesn't do that. But that is okay, crashes are a bit of the fun. R/C Car racing has come a long way in that time and now with the MAX TRAXXX Tracer Racers from Skullduggery, Inc. you can have incredible looking night races!
The set that we received to review is the Max Traxxx R/C Award Winning Tracer Racers High Speed Remote Control Infinity Loop Track Set, which has been Skullduggery's #1 Amazon product! It retails for $119.97 ad is for ages 6 and up. There are many great features to this set and I want to highlight a few of them for you. I have mentioned them in our video below which I hope that you watch.
Continue reading Review: MAX TRAXXX Tracer Racers Infinity Loop Set Is Crazy Fun →