Christmas is such a special time of year. We love spending time doing all sorts of family activities and also seeing Christmas themed performances. We've seen all sorts of them over the years and this year we were able to experience something completely new. Tonight we were hosted as guests of Cirque Dreams to see the performance of Holidaze in Boston a the Boch Center – Shubert Theatre. We received free tickets to see the show, opinions are 100% our own.
We drove in to Boston right after school and took the kids to dinner at Montien Thai Restaurant. This was the first time the kids had been to a Thai restaurant. They enjoyed chicken satay and Eva tried Pad Thai. Andrew wasn't as adventurous but he had fun as well.
After dinner we hustled up to the theater and were able to get right in. We were up on the Mezzanine level and while we could not take any photos I do have some of the ones provided to me and they are excellent. Many were from performers that we enjoyed.
The costumes were excellent and the performers did incredible things. The sheer athleticism and skill of each performer was something to see. There were tumblers, acrobats, clowns, jugglers and even more. One of our favorite acts was the Maestro who instructed people in the audience to play the bells. This was hilarious!
While I watched and enjoyed the show, Eva and Andrew were in rapt attention. Eva was most impressed with a man in a penguin suit balancing on various items. She could not believe that at all. There was also a couple who did super quick changes of costumes. Eva's eyes bugged out of her head watching that and trying to understand how that trick is done.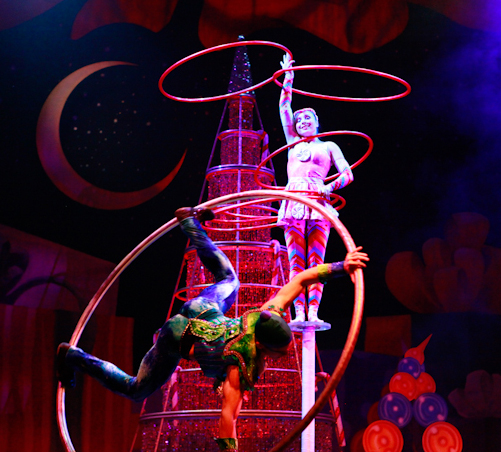 Continue reading Cirque Dreams Holidaze Was Christmas Magic →