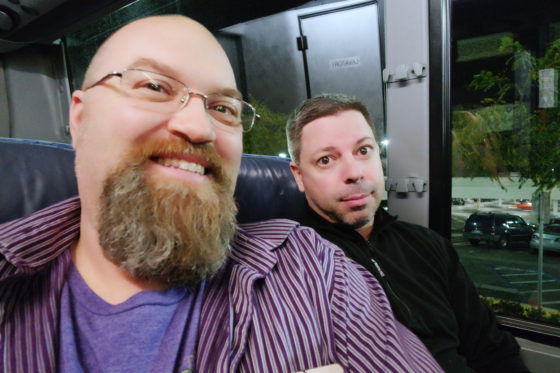 Photo-A-Day #4323
I'm leaving Dad 2.0 Summit tomorrow. I had a different experience this year than the last. Last year I was a freshman making his way through the crowded halls of the upperclassmen, the veterans, those Dads that had many years of Dad 2.0 under their belts. I met many people and became friends with a few whom I would keep in contact with over the course of the next year. Some have become very close. I don't have that closeness or ties to many other dads back home. Virtually none. I'm not much for the online groups and that is partly why I shied away from the conference to begin with. The other part was the M3 conference and the bad taste that left in my mouth. I had to give Dads conferences some time. Then the time slipped away. So, I am glad that I finally got it in gear last year and went.
I had applied for and won a Miller Grant. I had never met Oren Miller. From all I heard and saw at the conference in Washington he was Dad 2.0's favorite son lost too soon. I felt myself feeling a little less for never having known him. Mind you, no one made me feel that way. I just felt that way, like I had missed someone quite special and I would never go to Dad 2.0 through that lens and experience.
But my trip last year was good and this year was really good. I got a roommate again, my friend Derek Wilmot. He and I had a great time together over the course of the Summit. It is always good to connect with a friend at these conferences and having a roommate was something that I balked against many times over but the past two times has been great, last year with Dave Taylor and this year with Derek.
Throughout the day yesterday I had many great experiences. I won a Nest Learning Thermostat from Rheem, and a $50 gift card from Russell Athletics, and yesterday Rheem gave me a $25 gift card to Home Depot. Facebook Live gave me a Mophie battery backup for doing a Facebook Live Session. Derek and I did one that was a lot of fun. You can see it here.