Photo-A-Day #4234
We received a My First Telescope from Educational Insights to play with and review. Andrew really liked the Nancy B. telescope from Educational Insights that Eva got last year and I suspect he was a tad jealous. When I was given the opportunity to review one for him I couldn't say no. However, I've had the telescope for a while and It just so happened to make it work out along with tonight's Super Moon. Unfortunately we did not get to see the Super Moon because of trees and distance.
The telescope is a cute little one that you put onto a table top. It is colorful and easy to use. It is part of the GeoSafari® Jr. line from Educational Insights and is great for STEM learning. The telescope is Focus Free and good for little ones because they are looking through two large eyepieces with comfy goggle and nose cut-out guide for perfect eye placement.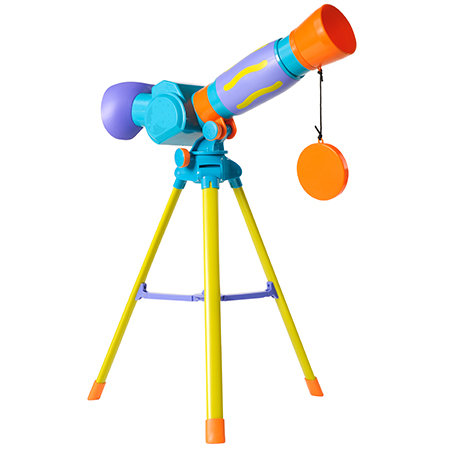 GeoSafari® Jr. My First Telescope
Discover amazing, up-close lunar exploration with GeoSafari® Jr. My First Telescope! Little ones can explore the moon with this focus-free telescope, built specifically for little hands and growing minds. Perfect for STEM learning, the 10x magnification provides fantastic views of the moon, while keeping the field of vision wide, which is essential for young children's understanding. Ideal for preschoolers interested in space and the moon, My First Telescope encourages exploration and discovery, provides hands-on experience with a scientific tool, and introduces the wonders of space. The telescope has two large eyepieces with a comfy goggle and nose cut-out guide for perfect eye placement. It also has a built-in diagonal mirror and lens cap. Setup is easy: the included tripod is adjustable for tabletop viewing and collapsible for easy storage. Comes with multilingual instructional guide showcasing phases of the moon. For ages 4–6. SRP: $29.99.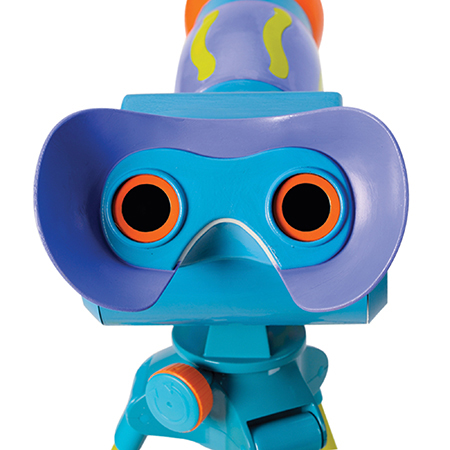 Key Features
Focus-free, easy-setup telescope designed specifically for young scientists
10x Magnification with wide field of vision, built-in diagonal mirror, and lens cap
Two large eyepieces with comfy goggle and nose cut-out guide for perfect eye placement
Adjustable tripod for tabletop viewing (collapsible for easy storage)
Multilingual instructional guide showcasing the phases of the moon