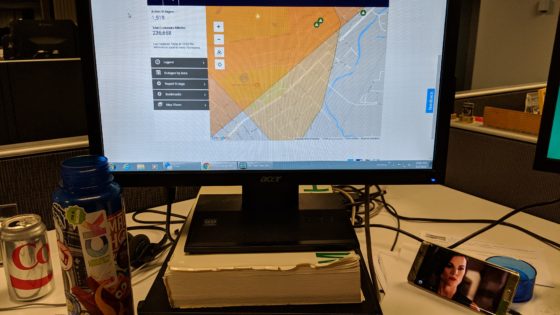 Photo-A-Day #4706
Re-entry after a vacation is hard. It is even harder after one of the best vacations in my life. It truly was a magical time together as a family. We have never had a vacation like that before. Being away for ten days with non-stop fun experience after fun experience was tiring but exciting at the same time. Seeing the kids experience so many things for the very first time was also spectacular.
Then we got home.
We got home to a wind storm that we have never seen before. It was so intense that the wind kept slamming the porch swing into the house over and over. I went out and took the swing down. I turned around and put the ladder back into the house and the wind picked up the swing and blew it across the porch. I chained it up to the side of the porch because even though the wind could toss it around like it was nothing I would need a second pair of hands to put it into the garage. I should have taken it down early in the day and gotten some sleep but instead got woken up and then took it down only to not be able to sleep again before work.
Back to work was another reason for a tough re-entry into real life. There's nothing like getting exhausted for 10 days, but having regular days and nights of sleep to come back to a flipped schedule. It is going to take me a few weeks to get back to being able to stay up through the nights without nodding off.
Then, when I get to work I get a message that Allison and the kids are without power. I guess that was a good thing that I was away because despite having a wonderful week of togetherness I don't think that having the four of us in the same bed was going to work well for anyone. The kids slept with Allison and so did their cats. There was no way that I would have gotten any sleep in that situation. I did miss them, though.