As a Netflix #StreamTeam member I often get to view screeners for upcoming shows and movies. I was able to watch the first three episodes of the upcoming Netflix Original dramedy series that launches on August 11th, 'Atypical'. This series stars Keir Gilchrist as Sam Gardner, Jennifer Jason Leigh as Elsa Gardner, Brigette Lundy-Paine as Casey Gardner and Michael Rapaport as Doug Gardner. The story centers around Sam, an 18-year-old on the autistic spectrum searching for love and independence. While Sam is on his funny and emotional journey of self-discovery, the rest of his family must grapple with change in their own lives while exploring the question: what does it really mean to be "normal"?
For Sam's mom, Elsa, played by Jennifer Jason Leigh this is a very difficult time. She has spent her life looking after Sam, protecting him from the world and taking care of his every need. Sam's growing independence is almost a threat to who Elsa is as a person. Her whole identity has been a mother of an autistic boy. along the way she has forgotten her own identity. Sam's journey and life-changing path is also a life-changing moment for everyone else in the family.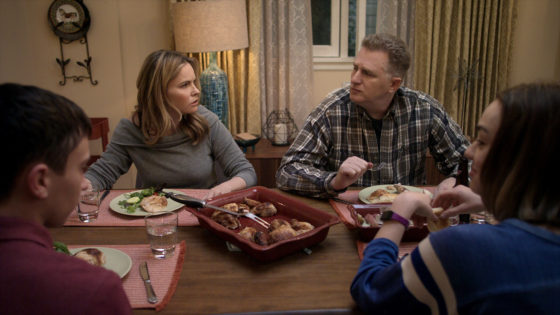 For Doug, Sam's Dad, played by Michael Rappaport, this new change means the possibility for finally connecting to his son. This is something that Doug has tried to do all of Sam's life. Doug desperately wants to find some common ground with Sam. I immediately identified with Doug. When Andrew was born things were clicking along like clockwork. Eva was out of diapers and was becoming more independent and easy to do more exciting things with. Then along comes Andrew. He will not sleep, he has a food allergy and he screams and cries constantly. At the same time I had taken a night job and my sleep rhythm was all out of whack. Andrew and I butted heads for most of his first few years. I worried about ever being able to connect with him and immediately saw that in Doug. Luckily , for me, I have been bonding really well with Andrew these past few years.
Rounding out the cast is Sam's younger sister, Cassie, played by Brigette Lundy-Paine. Cassie is tough, focused and athletic. She and Doug have their bond. However, Sam's actions also set things in motion for changes in Cassie's life as well.
I watched the first three episodes of this 8 1/2 hour episode series. I really wanted more when my screeners were over. It is interesting to see how Sam interacts with the world around him and how his family dynamic works. I can't say much more about the show without any spoilers to plot points but it was something I enjoyed and I think that more people will also enjoy it.
With eight, half-hour episodes filmed in Los Angeles, Atypical was created and written by Robia Rashid and Academy-Award winning producer Seth Gordon. Together, Rashid and Gordon serve as executive producers alongside Mary Rohlich, with Jennifer Jason Leigh as producer. Michelle Dean, who received her PhD from UCLA and worked at the UCLA Center for Autism and Research and Treatment before joining the faculty of CSU Channel Island, was also brought into the production to help guide an accurate depiction of autism spectrum disorder. The series is produced by Sony Pictures Television for Netflix.