Back in April we had a Kia Sedona Minivan for a week while we were on a mini Staycation. DriveShop provided us with the vehicle and we had a great time using it. Opinions of the loan are our own. This is our story.
I am a Kia driver. I lease a Kia Forte. While I am no fan of the dealership where I got the car (that was a whole kerfuffle) I do like my car and I was anxious to try out one of the minivans to see how it would work for our family. It is funny. I was actually on a trip with Josh from DriveShop and he put the idea in my head to try out the Kia Sedona. We had April vacation staring us in the face and I figured, what can we do during our vacation that isn't too far but can be a lot of fun.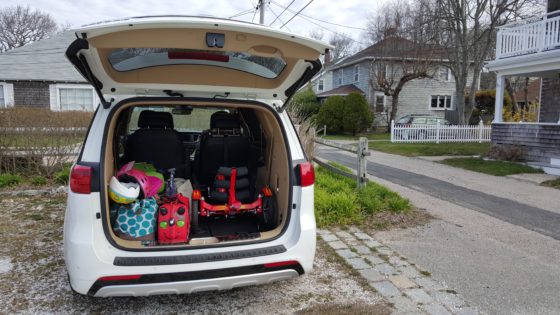 We decided upon going to Cape Cod. My parent's home was going to be empty and we'd have the place to ourselves so we started making plans. When you have a big minivan with lots of room you make big plans. I loaded in more fun than we'd ever get to do in the few days that we'd be on the Cape. The back half of the Kia Sedona had fold flat seats and I was able to load in the kid's MobiCruiser, something we never got to use. We didn't get to use it because we had so much more to do.
A trip to Cape Cod is a great way to use a minivan loan. The kids had plenty of room in their seats and even had wireless headphones so they could watch DVDs on the ride. They did a great job behaving on the trip and felt like they were in complete luxury while they road. Well, that is because they were. Not only did they have those wireless headphones and a DVD player, but their seats were almost like recliners with footrests and everything. Eva was incredibly excited about that feature. You can see that in this video
One of the things that we did on our staycation was to go to Wellfleet with my Aunt and Uncle. We had plenty of room to take them with us in the Kia Sedona. With the third row of seats it was easy to reconfigure the Sedona to fit everyone comfortably. People with large families can really benefit from a vehicle like this.
for me, the coolest thing was having cameras all around the vehicle so that when I was backing up I could see everything around me. It looks like an overhead shot of the vehicle, which I marveled at thinking that satellite technology has gotten insanely detailed. then I loved closer. While everything around the vehicle was very detailed, the vehicle itself was a generic Kia Sedona that did not have the sunroofs that ours had. It was an icon and the cameras around it made it look like an overhead satellite image. It was very cool. I'd occasionally switch into reverse to put the Sedona in the perfect parking spot. I had so much fun with that feature.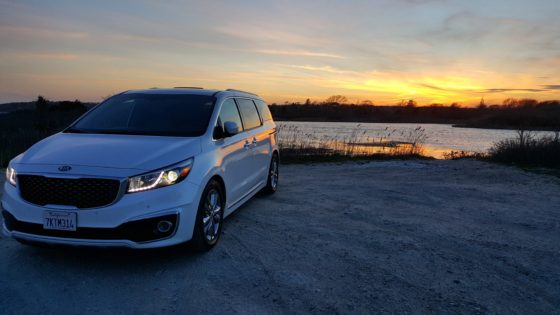 The Sedona was excellent for our needs during our staycation. We made use of the dual remote sliding side doors and the remote trunk release so often. I hated turning the Kia Sedona back in at the end of the loan. It had so many useful features and tons of space. It also drove very well. It had plenty of power no matter how many people were in the vehicle and it rode very smoothly. We enjoyed the entertainment system and the ability for Allison and I to enjoy whatever music we wanted while the kids did their own thing with the DVD player. I'd love to drive one again, maybe across country or at least for a few state road trip.