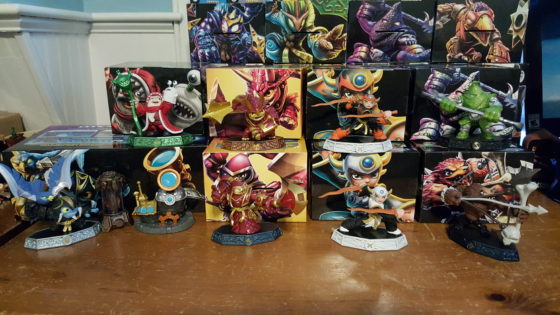 Photo-A-Day #4253
The family was on the Cape today and I wasn't too tired so it was time to catch up on all my Skylanders unboxings. I unboxed all of the figures that I have. Some were sent to me for free from Activision and the rest I bought at Target, Best Buy and Toys R Us. I only made one Creation crystal, the Earth one that came with the Gryphon Park Observatory adventure Pack. I am saving the rest for a big video where I make one Imaginator of every element and Battle Class.
I unboxed the characters Aurora, Solar Flare Aurora, Wolfgang, Steel Plated Hood Sickle, Jingle Bell Chompy Mage, Legendary Tri-Tip and Legendary Pit Boss. I also unboxed the Gryphon Park Observatory and played through that adventure pack level. I wasn't going to add gameplay to the video but I woke up early enough that I could make a longer video with gameplay. So, when I recorded the parts of me talking I didn't realize that I'd be up early enough to work on it. I'm glad I did. I like how it turned out, you can see it below.
Don't forget that I am giving away a 3D Printed Skylanders Imaginator. Check out my Skylanders Contest post to learn more.