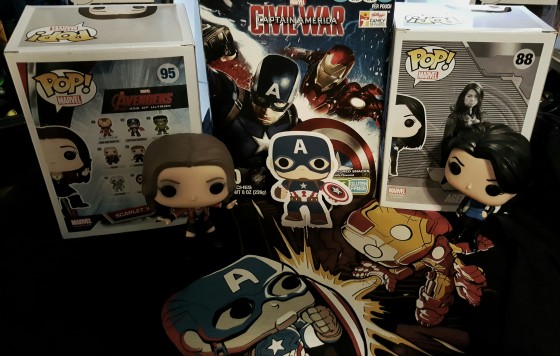 Photo-A-Day #3975
Today's vlog was inspired by my new Funko Pop Tee. This is a Limited Edition Captain America Civil War, Fight, tshirt. It features Captain America and Iron Man fighting in their Funko Pop forms. I saw this months ago when I was getting Allison a birthday gift. It just arrived yesterday. Her shirt had to get to a certain number of orders in order for it to actually be produced and that took a while. I'll have to show you guys that as well.
So, while I was showing off that shirt I thought to open a few more items that I had in my office including a couple of Funko Pops of Marvel characters and also some Kellogg's Fruit snacks for Captain America Civil War. I had gotten these a while back but haven't gotten around to actually opening them up until today. I really like that both figures stand on their own. I have a Zoe figure from Firefly that falls over all the time.
While recording the video I was reminded about an event that I attended last year for Avengers: Age of Ultron which included interviewing Elizabeth Olsen and Aaron Taylor-Johnson and also included a super secret visit to the Agents of S.H.I.E.L.D. studio where I got to sit at Coulson's desk and interview Ming-Na Wen and Clark Gregg. I also got to walk through the costume department and meet with the talented Ann Foley.
In the video I also try some of the Kellogg's Fruit Snacks that were Captain America: Civil War Themed.
Continue reading How About A Captain America Civil War Vlog Today →