Black Panther is being released on DVD and Blu-ray on Tuesday but you can watch in on Digital right now. We were fortunate enough to receive a copy of the movie ahead of time as well as a viewing party pack complete with popcorn, plates, a blanket and also some bingo cards and bingo chips to play Black Panther Bingo. We received those items for free and opinions are our own.
for our movie night we decided to make some Black Panther Kinetic Crunch. It is a variation of Muddy Buddies but with Popcorn and some Black Panther colors for drizzle. I'll put the recipe below.
I have tons of Black Panther movie information below including items to download and also lots of featurettes, movie facts and trivia.
Black Panther Bingo
Download and print these Bingo cards out so you can play along with the movie.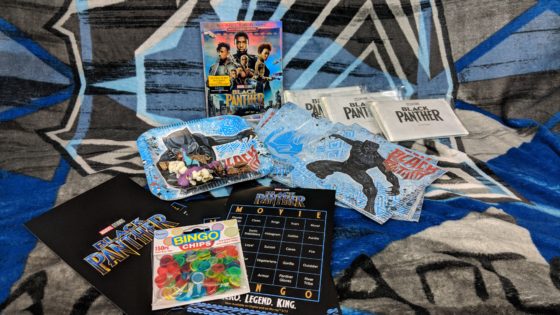 I thought the movie was phenomenal. There were so many great characters that we met in this movie and Chadwick Boseman did an amazing job as T'Challa. The world of Wakanda was brought to life in an incredible way, too. I loved seeing how technologically advanced the society was and how they still held to their traditions. You saw how T'Challa struggled to be a super hero and also a king to his people.
BLACK PANTHER TRAILER