Andrew is a bit of a HELLO KITTY fan. He has asked for coloring books and more. I bet he'd enjoy creating some of these new StoryGIF images on our phones when we download the new Hello Kitty StoryGIF app. It looks like an adorable little app. You create little animated gifs to express emotions. The app works on iOS and Android. You can learn more about it from the Press release below.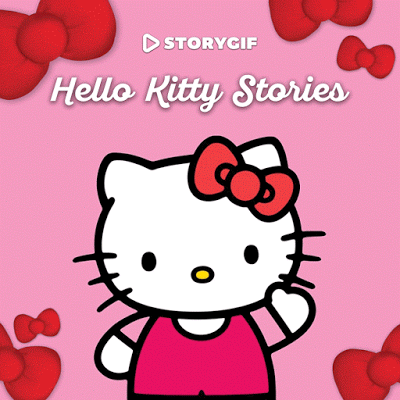 Berlin, October 6, 2016 – Zoobe Message Entertainment confirmed a partnership with Sanrio GmbH for multiple brands starting with the crown jewel Hello Kitty. Under the deal, Zoobe will create multiple digital products featuring the beloved brands both in 2D and 3D animation. To begin, the Berlin-based startup chose to launch the "Hello Kitty StoryGIF app" last week first on iMessage, Apple's long-awaited and stylish messaging platform that now includes stickers, apps and other fun features; hitting the Top 10 list almost immediately.
Today the app also launched on Android furthering the connection with fans digitally for Sanrio's consumer products powerhouse. Millions of digital natives and other early adopters can now select from over 50 adorable animations and multiple upcoming themes to create and text unlimited customizable and socially shareable StoryGIFs featuring Hello Kitty and friends.
"Hello Kitty's continued global allure to fans of all ages is astounding," said Zoobe CEO, Naz Amarchi-Cuevas. "These quick-text GIF stories are snack-sized treats that bring Hello Kitty to life in a whole new way. They connect the brand via emotion and humor through playful story-telling with the expressive animations." Continue reading Hello Kitty StoryGIF APP Has Launched →