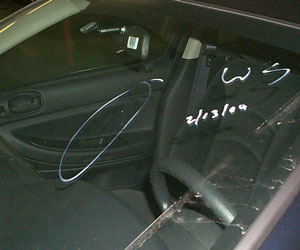 Yes I've been a slacker. Been on the road so long that I forgot what timezone I actually live in. Couple of things to rant about. Car Rentals. Notice the picture I've posted.
That is the tiny chip on my windshield that Hertz is slamming me with some fees about. Some rock or something kicked up on the road and whacked the windshield. I guess it was somehow my fault that I didn't swerve off a bridge to miss the rock. Arrgh!
Oh and Logan airport sucks. As usual. The worst airport I ever have to travel out of. Especially terminal B.
The LIVE visit this week is going rough and I've been up since 5:00CST. Need sleep. Need to be home. Need it to be March 13th. That is when I'll be home for four weeks. So everyone I've been promising plans to do things with will have to collect during those weeks. Anyway when my thoughts are even slightly more coherent I will post more.