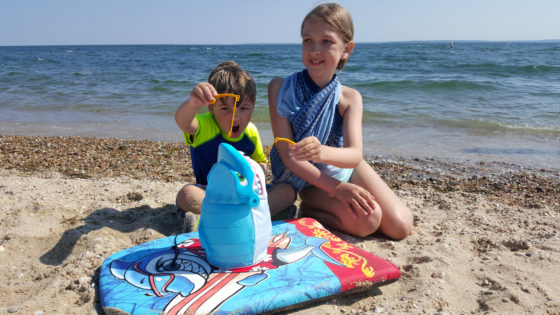 Photo-A-Day #4493
We received a new game from Goliath Games and Pressman Toy to play with and review. The opinions expressed are our own.
Shark Bite is a fun game where players take turns pulling fish out of the mouth of a shark. Play continues until the shark jumps up and chomps his teeth around the fish or the player fishing. I first played the game with Andrew. He and I played out on our front porch and had a great time anticipating who would cause the shark to jump up and bite.
Later on I took the game to the beach to take photos. We did not play there because I did not want to get any sand into the mechanism for the Shark. The kids wanted to play again later tonight and they convinced their auntie to play with them, too while I filmed. She was the one who caused the shark to jump in our video. Eva was scared of the shark jumping but she calmed down as they played. It was funny to watch, though. You can see everything in the video below.
Official Description:
Shark Bite: Get ready to have a REEL-y good time when you play Shark Bite! Players take turns rolling the die and fishing for the colorful sea creatures using the fishing rod. Watch out – you never know when the shark will bite!
(Players 2-4, Age 4+)