My friend and fellow blogger Rob Merlino, Hot Dog Man, is pledging to eat a hot dog a day for the month of July at 31 different hot dog venues. Anyone can eat a hot dog each day but to travel to multiple locations and experience 31 different hot dogs in a month is a whole other endeavor all together.
If you want to know anything about Hot Dogs then Rob is your man. I went to him to help out in a couple of contests including my Fry Sauce contest a few years back. I met The Hot Dog Man in 2008 when he was still running his hot dog truck. Then we met up just last year to try out The Hot Dog Trolley. Most recently I asked if he'd reach out to hot dog nation and get some votes for Eva as she is in a photo competition with The National Hot Dog and Sausage Council. Apparently if she wins we get a $250 gift certificate for grillin items. Yay! Here is the photo.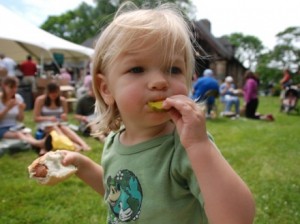 Taken in June of 2009 at the
St. Barnabas Church Strawberry Festival
.
To vote for Eva, simply email the contest at contest@hot-dog.org and vote for Eva. You should paste the following into the email:
Voting For Hot Dog Contest
People- #3 – Little Girl with Hot Dog and Pickles
But this post is mostly about Rob and I'm hoping that one of his stops will be over to Tex Barry's in Attleboro so that Eva and I can share a Hot Dog with him.
Here is Rob's official Press Release detailing his 31 day challenge. Continue reading 31 Days of Hot Dogs →