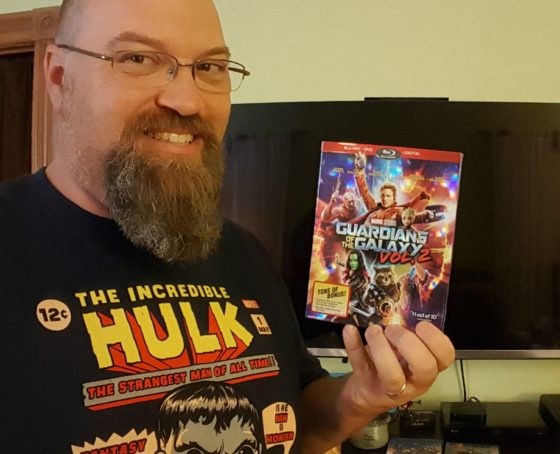 Marvel's Guardians of the Galaxy Vol. 2 hits stores tomorrow on Blu-ray and DVD. We received a copy to watch and review. Opinions of the set and movie are 100% our own.
Marvel's Guardians of the Galaxy Vol. 2 (Amazon Link) marks the Studios first in-home title to release in stunning 4K Ultra HD format, providing consumers with the ultimate home entertainment experience with next-generation high dynamic range visuals and Dolby Atmos immersive audio. Set to the all-new sonic backdrop of Awesome Mixtape #2, the film's storyline continues the team's adventures as they traverse the outer reaches of the cosmos. The Guardians (Chris Pratt as Peter Quill/Star-Lord, Zoe Saldana as Gamora, Dave Bautista as Drax, Vin Diesel as the voice of Groot, and Bradley Cooper as Rocket) must fight to keep their newfound family together as they unravel the mystery of Peter Quill's true parentage. This blockbuster sequel featuring the world's favorite band of intergalactic misfits, blasts into homes on 4K Ultra HD™ and Blu-ray on Aug. 22.
Movie Trailer.

I will always have love for the Guardians of the Galaxy. The first movie was my first time doing a Marvel Press interview. I really felt a connection with director James Gunn. His love for his vision of this story is so evident in what he does. In this second movie he has continued to make the universe of the Guardians of the Galaxy more rich and exciting. We get some great emotional moments in the movie that as a fan I can completely connect with. Taking such care to make the music become interwoven into the story is something that few people can do. James Gunn does it masterfully.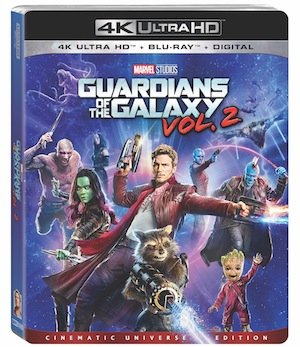 The featurettes on the Blu-ray add such depth and insight into the care and love put into this movie. You can see many little clips of these featurettes below. However, to get the full impact of each of these by watching them on the Blu-ray. There is a ton of great extras on the blu-ray that make the purchase totally worth it. And you gt even more exclusive features with the digital copy. Here are some examples of those featurettes. Continue reading Guardians of the Galaxy Vol. 2 Blu-ray Combo Pack Review →