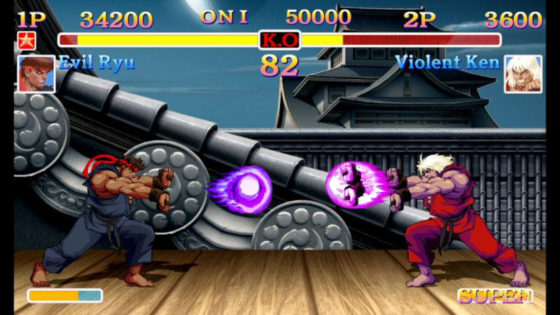 Back when Street Fighter II came out it was an instant hit. It was the tops of all the fighting games at the time and everyone wanted to get their quarters ready to play. Me, I am a button masher. Sometimes I will get a special move down but other times I just punch and kick and throw with no real focus. It didn't matter I had so much fun seeing the characters do their special moves. It was fast, it was thrilling and it was fun. Now with the Nintendo Switch you can bring the action of Ultra Street Fighter II to your hands. There are also a bunch of great new features. See them all below.
Ultra Street Fighter II: The Final Challengers, the first new iteration of Street Fighter II in nearly 10 years, is now available for the Nintendo Switch console. The fighting game features the full Street Fighter II roster, plus two new additions: Evil Ryu and Violent Ken.
With the power of Nintendo Switch, the new single- and multiplayer modes in Ultra Street Fighter II: The Final Challengers can be played anywhere! New and returning features in the game include the following:
Co-Op Battle: In this new mode, players can join forces in teams of two as they battle together against a computer-controlled opponent. Players share a health bar and can coordinate attacks to perform powerful combos.
"Way of the Hado": In "Way of the Hado" mode, players can fight enemies in first-person using the Joy-Con controllers. Iconic special moves like the HADOKEN can be activated using the motion controls of the Joy-Con.
Two graphic modes: With the simple push of a button, players can change between the game's classic pixel art and modern high-definition graphics.
Arcade Mode returns: The classic Arcade Mode returns in Ultra Street Fighter II: The Final Challengers. After battling through all the computer-controlled characters in the game, players can view character-specific endings.
Color Editor: Customize characters and costume colors using this new mode. Players can now bring their favorite character into battle with more style and personality than ever before!
Art Gallery: In between exciting matches, players can check out the digital art gallery included in the game. With more than 1,500 illustrations created by talented artists over the past 30 years, the artbook features many never-before-published pieces from Street Fighter's past.
Ultra Street Fighter II: The Final Challengers is now available in stores as well as Nintendo eShop on Nintendo Switch for a suggested retail price of $39.99.
Remember that Nintendo Switch features parental controls that let adults manage some of the content their children can access.
For more information about Ultra Street Fighter II: The Final Challengers, visit http://www.nintendo.com/games/detail/ultra-street-fighter-2-the-final-challengers-switch.
You can also buy the game through our Amazon link.