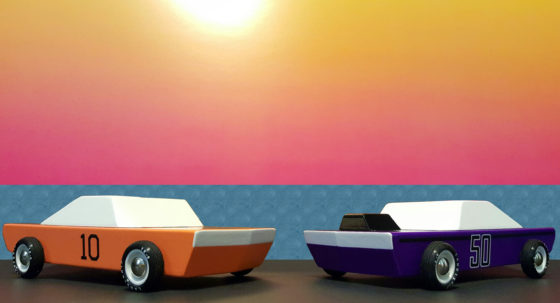 Photo-A-Day #4484
At Blogger Bash NYC and #SweetSuite17 I ran into Vlad and his display of Candylab Toys Awesome Wood Cars. They truly are awesome all around. The designs are simple and yet invoke a feeling of something more. The toys are built well, designed beautifully and roll along quickly and quietly on rubber tires. I was instantly drawn to the Candylab Toys booth because of the Plum50 so when I was asked if I wanted to review the toys I knew that was the one I wanted. I asked Vlad if I could review that one and also mentioned that I liked the GT-10. It reminded me of a certain orange muscle car with the number 01. He said that he'd send me both and I was very excited about that.
I'll be taking these toys to the Cape with me and I hope to get some fantastic shots with these cars. I did try to do a sunset shot with the cars in the image above.
Candylab Toys has a bunch of great toys. Not only are there cool muscle cars but there are also tow trucks, taxis and police cars as well as campers and station wagons. The company started on Kickstarter and they are having a brand new Kickstarter campaign right now. There are 8 days to go on the Kickstarter and they are fully funded so if you want any of these Kickstarter exclusive vehicles and you better jump on it. The Candylab Toys Kickstarter for the Woodie Redux, the Airstream, the Legend & the Ghost.