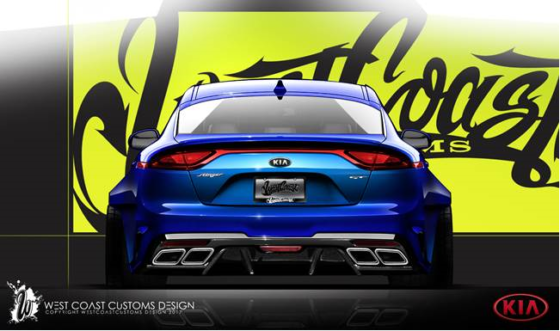 I received this exclusive video from Kia Motors America of the Kia Stinger Drifting. The Stinger GT will be at SEMA in Las Vegas and you can see the car drifting in person. It is amazing. I cannot wait to be driving that car. I really cannot wait at all for it. It looks beautiful and it is powerful, too!
KIA STINGER DRIFTING @ SEMA 2017
Last week, we shared an image of the Kia Stinger Wide Body, an aggressively-modified GT car, which will be unveiled on the SEMA show floor next week with other custom Kia creations. But we'll also be having a jaw-dropping good time outside of the Las Vegas Convention Center thanks to the Stinger Drift Experience.1 Come join us on the Gold Lot as pro drivers from Formula Drift send modified Stinger GTs sliding sideways on a twisty track built for raucous tire-melting action. In addition, there's a spirited autocross to experience the Stinger's stunning athleticism first hand.2
The Stinger will be performing hourly in front of a live audience from Tuesday, October 31 to Thursday, November 2. The only thing more impressive than Kia's all-new high-performance fastback sedan is Kia's all-new high performance fastback sedan with a pro driver behind the wheel. Don't miss this. #KiaSEMA #StingerExperience
1 Professional driver on closed course. Do not attempt. 2018 Stinger GT prototype modified for drifting exhibition. Vehicle unavailable for purchase.
2 Closed course with professional driver supervision. Always drive safely and obey all traffic laws. Modified 2018 Stinger GT prototype.