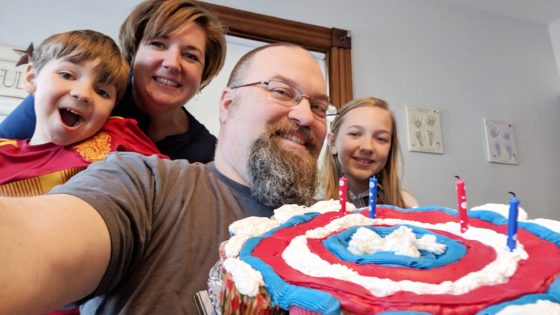 Photo-A-Day #4744
It is appropriate that I am on photo number 4744 on my 44th birthday. I started this project on my 31st birthday and have no signs of stopping. So, I turned 44 today. Another birthday in the books. I ad worked last night so this morning was all about sleep. at least until about 12:30. Then I got up and went to the Boneyard BBQ Saloon for $0.50 wings. I get their buffalo and blue cheese wings well done and they are incredible!!
I hung out at home after that and then when the family came home the kids were all sorts of excited to celebrate. I had asked that we grill up steak tips for dinner. We hadn't done that in a long time and it is a great birthday dinner. Allison also made her special roasted potatoes using the small potatoes so they crisped up real well. I also love to grill so getting to do that for my birthday was awesome. Dinner was a success!
After dinner Allison and the kids presented me with my birthday cake, which was a bunch of cupcakes in a circle decorated to look like Captain America's Shield!!! It was so awesome that I'll even forgive them the fact that I am Team Iron Man. The kids made me some very nice cards, too. Andrew did a bunch of drawings. They also picked out a great Star Wars LEGO set for me. I had already bought all of the Marvel ones for myself. The set they got me was the one where Luke trains Rey on the island. I'll have to build that with them this coming week during vacation.