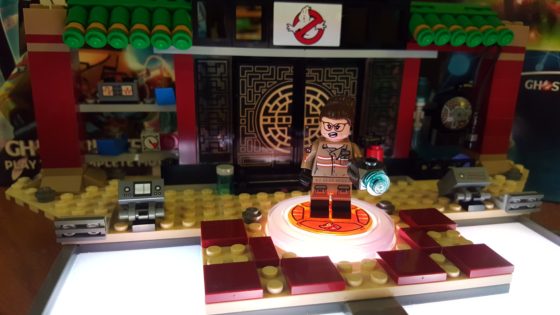 Photo-A-Day #4236
Warner Bros. Interactive Entertainment sent me a couple of LEGO Dimensions packs from Wave 6 for free to review. They were the Ghostbusters Story Pack and the Mission Impossible Level Pack. I already reviewed the Mission Impossible Level Pack and today I give you the Ghostbusters Story Pack.
The Ghostbusters Story Pack is pretty cool. This is a brand new type of pack for LEGO Dimensions. There are 259 pieces in the box. Not only is there the Abby Yates character and the Ecto-1 but a whole new look for the LEGO Toy Pad. Andrew and I built Zhu's Chinese Restaurant while we waited for the lastest update to the software. Our wifi was running very slowly and it took way too long to update so we didn't have a ton of time to play the game. I did get a little ways into it so that I got to the point where Abby and the ghostbusters got their uniforms and met Patty. I'm not that familiar with the movie but look forward to playing through the whole thing.
I loved all the other characters that show up in the cut scenes. The Delorean Time Machine from the Back to the Future Level Pack, Doctor Who, Doc Brown and so many more people. And on different levels you can see Paul Feig in need of rescue.
There is a neat new Toy Pad mode called "Rip", the Ghostbusters can tear a hole in reality and jump into a mirror world and that helps them solve puzzles in the real world. You can see more about the game in my video below. And after that is the official description of the Story Pack.
"Ghostbusters fans who want to make their LEGO Dimensions experience spookier can add the Ghostbusters Story Pack. Players can relive the film and help Abby Yates and her team of Ghostbusters save the world from the mysterious and evil ghost, Rowen, across six action-packed levels of gameplay. They can equip Abby with her Proton Blaster to activate her Charge Transfer ability to move electricity between conduits, and use her Intelligence Access ability for puzzle-solving. The Story Pack unlocks "Rip," a new Toy Pad mode allowing players to tear open an alternate universe. In this mirror world, players have the ability to solve puzzles and affect objects and other items in the primary universe. The pack also includes a 3-in-1 buildable Ecto-1 which can be rebuilt into the Ectozer and The PerfEcto, plus the Zhu's Chinese Restaurant gateway build to customize the LEGO Toy Pad. Abby Yates provides access to a new Ghostbusters Adventure World with its own unique Battle Arena. "
Abby Yates Spotlight


Follow LEGO Dimensions at:
Facebook: http://www.facebook.com/LEGODimensions
Twitter: http://www.twitter.com/LEGODimensions (@LEGODimensions)
Instagram: http://www.instagram.com/LEGODimensions (@LEGODimensions)
Tumblr: http://LEGODimensions.tumblr.com