Photo-A-Day #1596
I should take more lessons from Eva. One of them is to color outside the lines. She's not even two so there is no way she's going to have the muscle control to color in the lines in coloring books. Lines and structure are no match for Eva's crayons.
I've been reading Trust Agents by Chris Brogan and Julien Smith and the first chapter called Make Your Own Game. In this chapter we explore the concept of games and how we first learn to play the game then we hack the game and lastly we make our own game. If you watch young children just learning how to do things for the first time they do things their own way always until they learn to do it "the right way". Right?
The thing is if we didn't have people who colored outside the lines we'd never have any innovation ever. Without the game changers there wouldn't be an internet, an iphone, or chocolate ice cream. The world would be plain old vanilla and stepford would be a reality.
I'm very lucky to be friends with an incredible game changer, Ted Murphy. Ted is going to be redesigning my blog. No, scratch that, he's going to do a complete tear down and an amazing rebuild. I'm not sure exactly where he is headed with it but I like the direction so far. Today he revealed my new logo on twitter. I wasn't even online at the time. Allison was and she was like, "You've Got to See This!" I had no idea what she was looking at but right away I was really excited with what she saw.
So now I guess my current business cards are what you would call collector's items. I have about 850 of those collectors items to give out to people who want them :-). I am glad however that Ted revealed the logo today because I ordered something super secret for IZEAFest and needed the logo. On top of the black and white logo Ted even uploaded some color ones.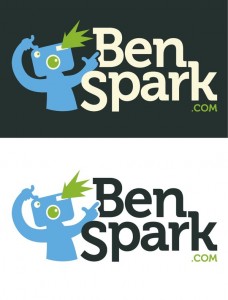 So, what do you think of the new logo? Do you think that it will change the game here at BenSpark.com?