This past weekend we had a little mini vacation to the Cape Codder Resort and Spa, but when we weren't in the water park we were in the room. On Saturday afternoon we took the time to enjoy a family viewing of Star Wars: The Last Jedi. We were provided a bunch of great stuff to have this in home viewing party. We received a box full of great Star Wars: The Last Jedi stuff including a Storm Trooper Plush Throw, Star Wars: The Last Jedi Napkins, Star Wars: The Last Jedi Paper Masks, BB-9E Plush – 6", BB-8 Plush – 7 ½", Porg Plush – 9", Star Wars: The Last Jedi Treat Cups and Popcorn. We also received a copy of the movie on Blu-ray/DVD/Digital. I had loaded the movie onto my iPad before our trip in anticipation of watching it during out downtime. I also added in a Star Wars: The Last Jedi LEGO set that I bought before the movie but saved to build with the kids.
The biggest hit of the entire in-home viewing kit was the stuffed Porg. The kids took turns being the keeper of the Porg, over and over again. The Porg was everywhere, just like in the movie. And, once we got home the kids worked out a system in which one child would keep the Porg for the weekend and the other during the week. They really loved that thing. Andrew got it for this photo.
So, we popped the popcorn and enjoyed out new stuffed characters. We also watched around the little table and ate the popcorn while building the LEGO set. As we were building we got to the part where Finn and Rose went in search of the code-breaker and the kids recognized the ship that they were building. It was a fun afternoon of family downtime and more bonding over a franchise that we all love dearly.
Since we weren't home we couldn't make anything besides the microwave popcorn that was in our viewing kit but had we been home then we could have tried out some Star Wars: The Last Jedi recipes like the ones below. Just click the image to download the recipes.
Star Wars Galactic Recipes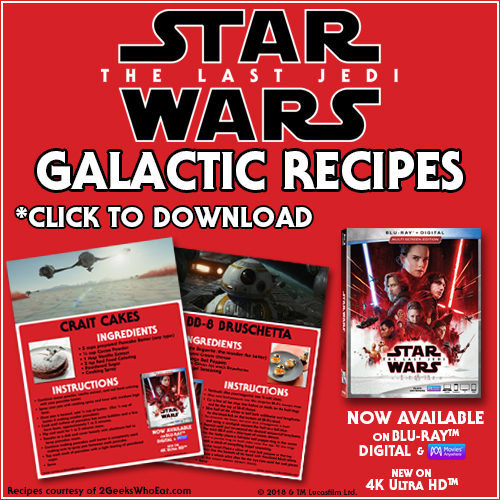 We enjoyed seeing the movie as a family and if your family is interested in seeing the movie, too then make sure that you enter my Digital Download giveaway. I am giving away FOUR copies of the movie. That also includes extras like the gag reel.
STAR WARS: THE LAST JEDI GAG REEL
More about the movie and Blu-ray below. Continue reading We had a Star Wars: The Last Jedi Viewing Party While on Vacation →