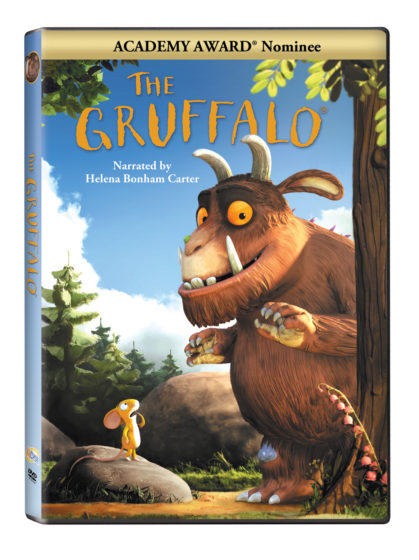 The Gruffalo is an adorable story. I enjoyed reading it to my kids and then watching it together. We would read both The Gruffalo and The Gruffalo's Child books and then watch the stories. Now the Oscar-nominated The Gruffalo is being re-released on DVD January 10, 2017. I will be giving away a pair of the DVDs. You can enter to win by leaving a comment on this post. Tell me your favorite childhood story. The contest ends January 6, 2017.
The WINNER is DEBIJOT
Both of these films are based on beloved children's books written by Julia Donaldson and illustrated by Axel Scheffler, and feature an all-star cast of voices. Some of the featured voice talent in both films includes Helena Bonham Carter (Harry Potter), Robbie Coltrane (Harry Potter), James Corden (The Late Late Show with James Corden), John Hurt (Indiana Jones and the Kingdom of the Crystal Skull), and Tom Wilkinson (Batman Begins).
About The Gruffalo
This enchanting tale tells the story of a mouse who walks through the woods in search of a nut. Along the way, he encounters a hungry fox, owl, and snake who all think the mouse looks good to eat! Forced to rely on his wits for survival, Mouse invents an imaginary monster with frightening features to scare them away, but what happens when he comes face-to-face with his own creation?
The Gruffalo DVD has an SRP of $9.99 and will be re-released on January 10, 2017.
About The Gruffalo's Child
One snowy night, the Gruffalo's Child ignores her father's warning and bravely tiptoes out of their cave into the deep dark wood in search of the Big Bad Mouse. On her journey, she meets Snake, Owl, and Fox but no sign of the fabled Mouse. He doesn't really exist…or does he?
The Gruffalo's Child DVD has an SRP of $9.99 and will be re-released on January 10, 2017.