I ran a little competition for the past month for tickets to IZEAFest plus a little prize pack.
Little – Not Quite – We Are Talking Ultimate!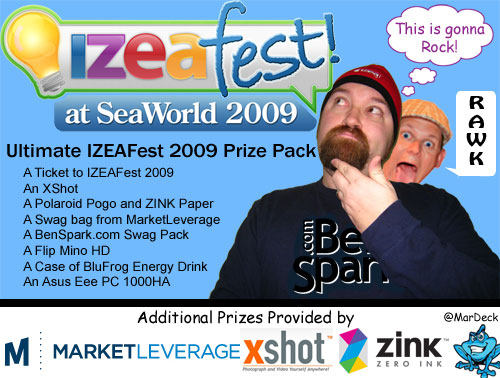 This prize pack as made possible through the help of Sponsors: @BenSpark, @MarketLeverage, @MlDina, @Xshot, @IZEAFest, @MarDeck, @eboost, @briteview, @jentifa, @flipbac, @PokenGirl. and Judges: @MurrayNewlands, @ericschechter, @Timothy_Jones, and @KimAnnCurtin
With their help I was able to put together the Ultimate IZEAFest 2009 Prize Pack which includes: An IZEAFest 2009 pass for the entire event including the Kickoff Party at Busch Gardens Tampa on Thursday October 1, 2009 & Blogger Takeover day at SeaWorld on Sunday October 4, 2009. This pass also gets you into all the parties, the swag and the speaker sessions. Did I forget to mention IZEAHunt you get to participate in that too. This pass alone is one highly sought after prize!
But that is not all: The Ultimate IZEAFest 2009 Prize Pack ALSO includes: