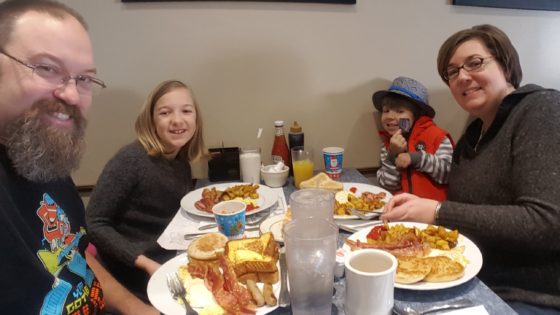 Photo-A-Day #4282
A new year and a new start. I made sure that my first day of the new year started with the family so I took last night off. We enjoyed a nice family dinner of appetizers and watching the Netflix countdowns. This morning we slept in and then I took everyone to Morin's for a big breakfast. We never get a chance to do big breakfast together because of my work schedule. While at breakfast we talked to the kids about what they wanted to do for the year ahead. Both kids want to learn to ice skate. Andrew also wants to use a skateboard (there was a skateboard on his place mat) He also said that he wants to throw a New Year's Party, well we have 364 days to plan.
We came home and I started my latest project. I organized my Transformers comic book collection because I am starting a whole new YouTube project. I am reviewing my Transformers comic book collection, one book at a time. This is being done on my second YouTube Channel called Big Damn Kid. I actually started the channel a year or so ago but only have 13 videos on it. I'm anxious to see how this one grows in the coming year. You can access it via my new YouTube Channel.
Today I also opened up my new Modarri car, this was the Modarri Kickstarter car. Sadly, Brian and I did not win the most number of votes for our Modarri video. We still may find out that we were the video that Modarri enjoyed the most and so we are crossing our fingers to get SteamDads some funding.
More to be found in today's video.