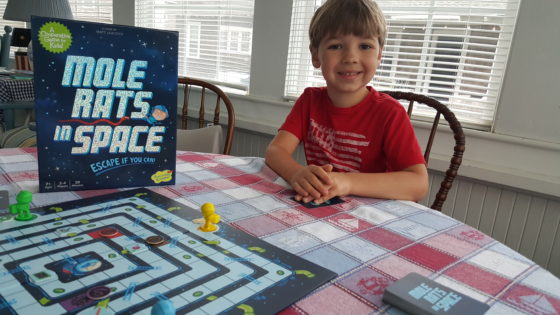 Photo-A-Day #4485
We received a copy of the Peaceable Kingdom Cooperative game Mole Rats in Space for free to play with and review. Opinions are 100% our own.
Summertime can be a time where you hear the words "I'm bored" all too often. Most often kids want to be entertained and turn off their brains when they get to bored. They use that bored excuse to try and get some screen time. You can counter act that and the dreaded brain drain by engaging with your kids through some cooperative games from Peaceable Kingdom. More often than not the kids really just want to spend time with you or their siblings. Man games make this difficult because they are competitive and someone always ends up the loser.
With a cooperative game no one is excluded and everyone helps each other out to win the game. We've played a lot of these games over the years and many of them were for younger kids. We're starting to move up to the games for older children like our latest game to review, Mole Rats in Space. Andrew is only 5 1/2 but he can play this game for seven year-olds and up without any problem. we've even played with other family members and he is great about helping instruct them.
So, what is the game about? Mole Rats in Space is about four Mole Rats on a space station that is being invaded by snakes. The Mole rats have to grab supplies and haul their butts to the escape pod in order to win. Along the way they have to avoid the snakes and the tubes that may shoot them out into space. If they don't get all the supplies and get into the escape pod then they fail. If they get bit twice by a snake then they fail. If anyone gets shot into space then they fail. There are a lot of ways to fail in this game and that is what makes it so challenging. But, don't despair, there are those that can help. Your friends. Continue reading Prevent Summer Brain Drain with Mole Rats in Space and other Peaceable Kingdom Games →