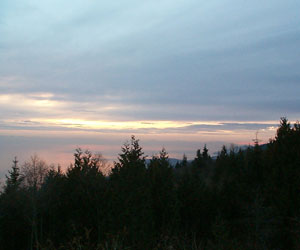 Today was my last day in Vancouver for my first trip out here for the an implementation job. It was a pretty interesting trip despite the weather and it being very dark most of the time. I did get to see some sun and some stars. Today Smallville was still filming at the hospital and I was able to see Tom Welling and Kristin Kreuk film a scene.
I wasn't close enough to hear them but I knew they were filming a scene because there were dozens of people around yelling filming type things like "speed" "action" "rolling" and "cut". I don't know where the camera was but I was right behind them so the camera was probably behind me and didn't get me in the shot, but who knows stranger things have happened. So watch Smallville on March 2 for episode "Resurrection".
After training I went for a drive down Vancouver's Route one up to a mountain. It was still pretty foggy and lots of clouds but the sun and the clouds made for an interesting photo. Enjoy. Maybe next time I come out here things will be much brighter and I can get some photos of the mountains that I could see from my hotel room for all of 5 minutes.
I also just finished my Firefly DVD's. Man that was an awesome show that never should have been canceled. Hopefully it will live on in a feature film as well as some novels like the Buffy books and Angel books. I can't wait for the first Firefly book. That will be awesome. Anyway, I'm sitting in the airport and will post this message probably tomorrow when I arrive home. Since I won't be leaving till 11:30pm and won't be arriving until 10:00am. Bit of a long flight… To say the least.