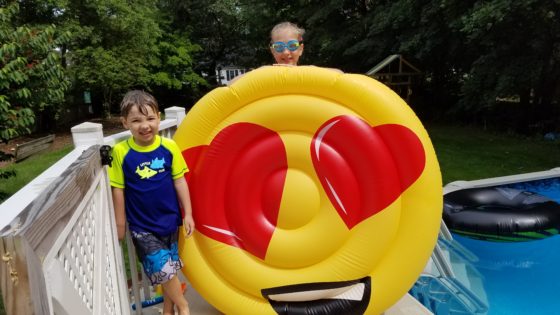 Photo-A-Day #4479
Today we went to my Aunt's house to play in the pool for a couple of hours. The kids posed with a giant Emoji pool float for World Emoji Day. They also had a lot of fun jumping into the pool. Then we all went home to get cleaned up to go our for an Outdoor Movie night.
The theater group, Triboro Youth Theater, had a fundraiser where they showed Beauty and the Beast on a giant outdoor screen. It was my first time seeing the movie and I liked it very much. I had wanted to take the family to see the movie but never got the chance before they went and saw it on their own. Chalk it up to working weekends.
At the movie night there was a hot dog company called Gastros. They make their own hot dogs in Rhode Island and they were delicious. A bit pricey. It was an expensive night but tasted great!