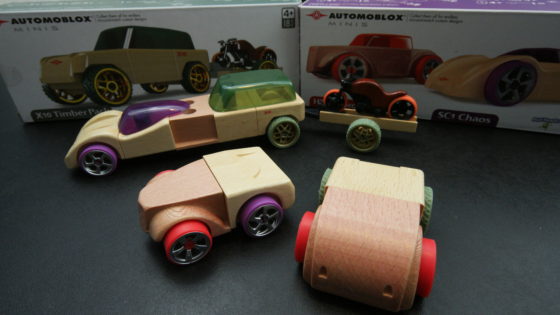 We received the Automoblox® Mini X10 Timber Pack and Chaos and HR5 Scorch 2-Pack for free from PlayMonster to play with and review. Andrew loved these cars and he was so happy to do this review.
Both Andrew and I love cars. I love to ride in them, he loves to drive them. We also love to play with them. We've plyed with all kinds of toy cars but we've never had the chance to check out Automoblox before today. We received two packages of the new Automoblox® minis from PlayMonster. Many of the new designs for these toys were revealed at this past Toy Fair. I was unable to attend but am glad to get our hands on them for use in our home.
This time around I had Andrew play with them to his hearts content prior to any sort of video. When the time came to make the video below he had had so much playtime with them that he could speak to them much better than an on the spot unboxing. He's learning how to do these reviews with me. I'm learning how to give him his own space to talk about things in his way.
Continue reading Review: Automoblox Mini X10 Timber Pack & Chaos and HR5 Scorch 2-Pack →