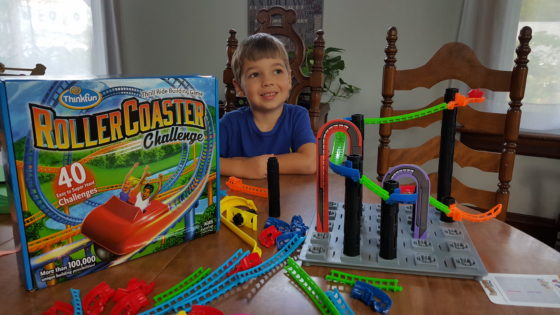 Photo-A-Day #4548
I have had a long relationship with ThinkFun and have reviewed many f their toys. The Roller Coaster Challenge was sent to me, a while ago, for free to play with and review. This is our honest opinion.
The other day I was creating some content for a campaign about controlling screen time. I wanted to show what other things we would do as a family to entertain ourselves and I reached for the ThinkFun Roller Coaster Challenge. I set up one of the roller coasters and set up a photo of the kids and I playing together. When I was putting it away Andrew asked if he could play with it. At first, I thought that the game was for older children and it would not be a good one for Andrew to use unsupervised. The connections can be a little sensitive and sometimes Andrew mangles things that don't go together just right. However, I gave him some instruction on how to read the challenge cards and how to put the pieces together to make the roller coasters. Then I went off to work on my other project.
The game is actually for kids 6 and up. Andrew is only 2 months away from that age and he has played all sorts of games so he was able to figure this out fairly easily. While I was working on my project he would call over from the other room for me to come in and watch as he made a new roller coaster. He was so proud when he got the challenge to work correctly. He blew though the first 10 easy challenges quickly. He then wanted to just make his own coaster and this is one of the first ThinkFun games that we have tried where any of the kids wanted to try to create something that wasn't on the challenge cards. That impressed me. What is also impressive is that ThinkFun has a Create Your Own challenge web page that let's you create a challenge card of your very own.
Andrew played for a while longer and I joined him to try and create his own coaster. He was quite proud of his accomplishment.
I am a huge fan of the ThinkFun challenge type games, they are always packaged so well and the pieces work well, plus I love going through all the challenge cards to see if I can solve all of them. This roller coaster challenge is a lot of fun. It is no surprise that it has hit the top 25 Hottest toys of 2017 according to Amazon.com. You can pick up the game for $29.99 through my ThinkFun's Roller Coaster Challenge affiliate link. Here is what it contains:
Type: Junior Logic Games New Games Our Top Ten
Skill: STEM and Creative Thinking Visual Perception and Reasoning
Age: 6 and Up
Players: 1 Player
Game Grid
39 Track Pieces
36 Post Pieces
2 Tunnels
40 Challenges with Solutions
This set has also been featured in featured in Good Housekeeping Magazine, USA Today's All the Moms, and Fatherly. It is an excellent game for the family to play together. Andrew already asked this morning if he could play again tonight after school.
Here is the official description.
Build An Amusement Park in Your Living Room!
Roller Coaster Challenge – In this thrilling engineering challenge, players get to build their very own roller coasters. Start by choosing a challenge card and setting up the pieces to match. Then, players use the remaining pieces to build a working roller coaster that meets the build conditions on their challenge card. Roller Coaster Challenge incorporates elements of a logic puzzle, while also allowing for the creativity that stems from free-form building. Once you have solved each challenge, you get to watch a real coaster car glide down the track, complete with dips, curves, and loops! Roller Coaster Challenge earned American Specialty Toy Retailer Association's (ASTRA) Best Toys for Kids Award and National Parenting Products Award! (Ages 6+)