This is a sponsored post on behalf of Life of Dad and Sears. I have received compensation for this post; however, all opinions stated are my own.
Fridays may be the favorite day of most of the world. It is the end of the work week and there is a weekend of promise ahead. Friday for me, are the worst. I'm up for 24 hours straight. Why? Well, I watch Andrew all day long and then head to work for my overnight shift. One thing is always in play for a Friday and that is Operation: Naptime. Getting Andrew to nap on a Friday is getting harder and harder to do. Maybe it is my desperation to have a few minutes of shuteye myself or maybe he senses the change. Either way, thinking about doing anything like going shopping and finding the perfect gift for my wife for Mother's Day is off the table. That is, until Sears' In-Vehicle Pickup service.
While this is a super convenient, and free, service you do have to plan ahead. You'll need to be a member of the Shop Your Way Rewards program and you will also have to download the Sears app to your cell phone. Then you link the Sears account with the Shop Your Way Rewards account. Once you've got that taken care of, which is very easy to do, then you select your local Sears store. You can then shop via the app and find items that are available for Free Store Pickup. This is key because if the item is not there you're not going to be able to go pick it up. I did my shopping from my bed before I even got up for the day. I got her something practical, something whimsical and something beautiful. I was planning ahead and Operation: Naptime was in full effect.
After I placed my order I took Andrew out for a morning of play at a local playground. I got him good and tired by running him all over the place. I let him play as long as he liked on the playground and then we went home for lunch. While we were at the playground I was alerted via text and email (both were alert settings that I chose) that my order was ready and I could go to Sears and pick up the items that I bought. We headed home for a quick lunch and then back into the car.
Any parent knows that getting the kids in and out of the car over and over while running errands can get tedious. Andrew is at the age where he can buckle himself by himself almost every time but that takes time. And sometimes when we get to the second or third errand location he's exhausted and wants to sleep in the cart. This means that by the time we get back in the car he's going to be wide awake again. We can't have that. So, being able to remain in my car on an errand is key.
We headed over to Sears where I parked in a designated spot for the In-Vehicle Pickup service. I opened my Sears app and selected In-Vehicle Pickup. A timer started and I started taking a few pictures for this post.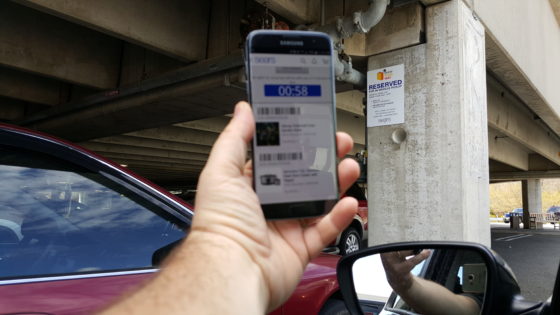 It took me about a minute to take this particular photo. I was trying to get both my phone and the sign in focus. I think that folks around me must have thought that I was strange.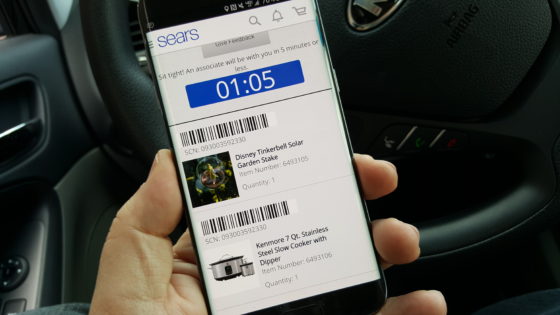 Then I pulled the phone back into the car and was taking this photo when there was a knock at my window. I looked up and there was a Sears associate with my items in his hand. I popped the trunk and then gestured to it and he loaded everything right into the trunk then he came to my window and scanned my items on the app. Once they were scanned I was prompted to fill out a quick survey on the app and I was headed back home once again. Andrew was awake the whole time we were at the store, but he was at that stage of being tired enough to fall asleep.
I did hop out of the car just to shoot the photo above. I was very impressed with the service and the fact that I didn't have to haul a tired child through Sears on a day when my frustration levels were already crazy high. I was able to get to the store, park, open the app and my purchases were at my car window in little over a minute. If I hadn't taken so many pictures I would have been on my way home in under two minutes. That is 3 minutes less than is guaranteed. I headed back home and when I got there Andrew had passed out asleep in the back seat. You can see my happiness in my first photo above. I got my errand done and I was even going to get an hour of shuteye before a night of work.
Your mission, dads, is to download the app, shop for the moms in your life and get them something great from Sears. Time is running out for Mother's Day gift buying. However, Sears has you covered even if you wait until the last minute. I know that some of you do that. Not me of course, no, not ever. But seriously, there are many nice things at Sears and many departments to choose from. If you are stuck for ideas and need help then check out Sears.com/AllForMom. There are a ton of great gift ideas there.
So, what did I end up buying. Well, like I said above, something practical, something whimsical and something beautiful. In our house Allison cooks and I clean. She makes us some great meals and has been eyeing a new, and larger, Crock Pot so that was the practical gift that I purchased. We are working on having a nice family garden and so I picked out a fun garden ornament as something whimsical. I was then looking through women's clothes and saw something perfect for Allison, so I got her something beautiful. I'm keeping that a surprise as she saw the other two items already and she reads my posts.
If you need any further convincing to use Sears' In-Vehicle Pickup service, how does $5,000 grab you? Find a great gift for your wife or mom at Sears for Mother's Day. As a bonus, shoppers that use Sears In-Vehicle Pickup for their online purchases between Tuesday, May 3 and Saturday, May 7 are automatically entered for a chance to win a $5,000 Sears gift card! Alternatively, you can also click on and enter the Shop Your Way All For Mom Sweepstakes at Sears.com/AllForMom.