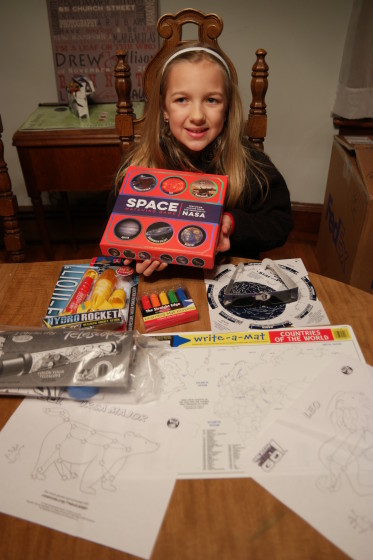 We received a great kit from PBS Kids for the new show Ready JET Go! I am part of the PBS Kids VIP program and because of that I receive things like screener launch kits for many of the shows. Ready JET Go! premieres on PBS Kids on Monday February 15th and this has been a show that I have been waiting for for a while. I wanted my kids to see it because of Dr. Amy Mainzer. I got to meet Dr. Mainzer last year at the PBS Annual meeting and she was amazing. I knew that I wanted Eva to see her because she is a woman in Science and would be another great role model for Eva. My friend Tee's daughter Teagan was lucky enough to interview Dr. Mainzer for a post on That's It Mommy. Eva's definitely going to get to read that.
So, what about the show itself. The show is really fun. It is about a boy named Jet Propulsion from the planet Borton 7. He and his family land on Earth and while Jet learns about Earth from his Earthie friends he teaches them about Space. Want to know about the solar system, take a journey in the family space ship for 30 minutes before Celery dinner. Celery is Jet's dad and Carrot is Jet's mom. They thought that those were earth names and chose them to blend in. The show is cute and have some really catchy music for things like the Scientific Method and also the Solar System. The kids and I have been watching the screener as well as the clips and episodes on the PBS Kids app on our Roku TV. They love it and have been watching every night.
Here is today's daily vlog where I talk about the show.
More about the show below. Continue reading Ready Jet Go to Debut Monday February 15th on PBS Kids →