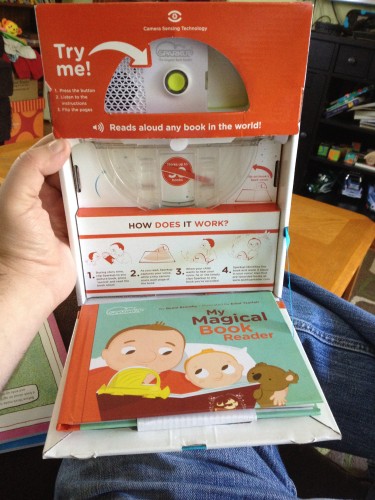 I was asked to try out Sparkup – The Magical Book Reader and review it. One was sent to me to set up and use.
I love reading to the kids. Each night I read approximately 6 books to Andrew to get him down to sleep. Eva is down to one or two or chapters from a book. Eva goes to bed listening to the Barefoot Books Podcast and so she listens to stories all night. Reading to them at bedtime is one of my very favorite activities.
The thing is, I can't do it all week. Working weekend nights has been good for being there all week long day and night but it stinks for not being there on the weekend nights.
While I can't be there physically with the kids, my voice can be there and read them their favorite stories. With Sparkup I can record any one of my kids' favorite books and they can play it whenever they want. Continue reading Sparkup – Read Your Kids Any Book Even When You Are Not There →