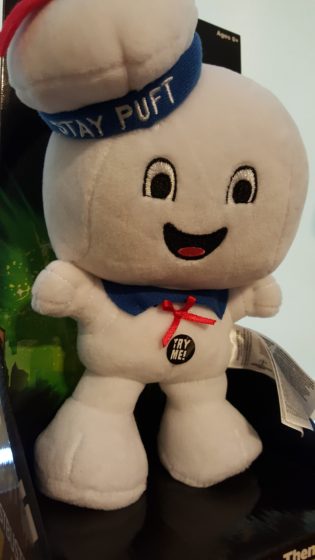 Photo-A-Day #4167
Underground Toys sent me a package with a medium sized Happy Stay Puft Marshmallow Man plush that plays the "Ghostbusters" theme song. They sent it to me for free in exchange for an honest review. Opinions are my own.
Ghostbusters is one of those movies that I really enjoyed as a kid. It was funny, fun and is very quotable. Probably one of Bill Murray's best roles ever. One of the best parts is when the Stay Puft Marshmallow man comes stomping through New York. Underground toys has made a bunch of different Stay Puft plush toys. They have the Happy Stay Puft, Angry Stay Puft and Toasted Stay Puft. Tey also have a plush Slimer for fans of Slimer. I never was a fan of Slimer, I enjoyed Stay Puft.
You can find these toys at Underground Toys. You can also stay up to date with what is happening at Underground toys on Facebook and Twitter, too.
I ddn not know much about Underground toys before they agreed to work with me. Now that I've been checking out their site I am excited over what they do. It is amazing the pop culture licenses that they have. So many that I want to work with like Marvel, TMNT and more!
You can see more of Stay Puft in the video below and after the video is more information on the Ghostbusters toys from Underground toys.
Continue reading Underground Toys – I Ain't Afraid of No Ghost →