Jakks Pacific gave me an Avengers Rollover Rumbler to play with for free in exchange for an honest review. Opinions are 100% our own based upon use.
With Captain America Civil War releasing this Friday it is a great thing that there is this fun vehicle. It is fast, does tricks and is double sided so you can show your allegiance to either side. #TeamIron Man or #TeamCap! We had so much fun with it.
I think that I had way more fun with the Rollover Rumbler than Andrew. It went super fast and once I figured out the technique for flipping I was switching back and forth over and over between Iron Man and Captain America. This is a large RC vehicle that worked on grass as well as blacktop. We had a whole Basketball Court to use to play with this toy. I could sit on one side of the court and had total control of the car on the complete opposite side. I don't know the full extent of the range but that is pretty far to me.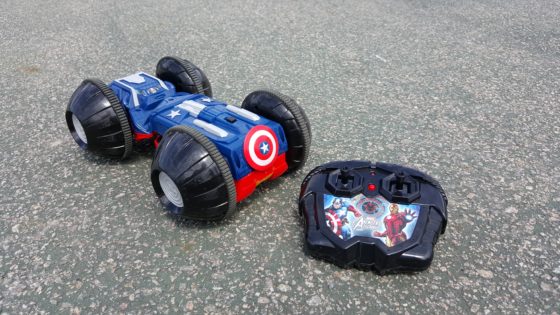 As you'll be able to see in the video, Andrew was chasing this all over the place and I was able to use it to tire him out a little. It goes fast enough and is responsive enough to outrun an active 4 year old. You can see our fun in the video below.
Continue reading Running Amok with the Avengers XPV Rollover Rumbler →