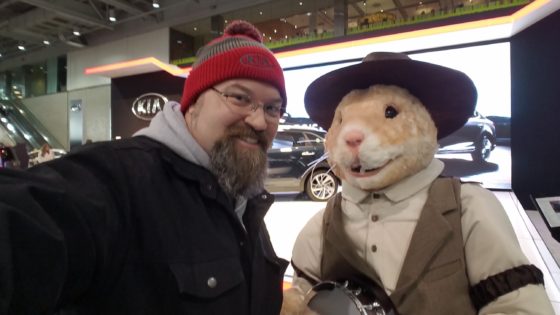 Photo-A-Day #4297
I have been given compensation for this post by Kia Motors. However, opinions, as always are 100% my own.
I drive a Kia Forte. I enjoy it very much. I've driven many different Kia vehicles in the past few years and have also enjoyed them. One of the more recent Kia models that I drove was the Kia Optima. I lived that one the most, for me. For the family it was the Kia Sedona. Now there are some new Kia's that will be hitting the dealerships soon including the new Niro and Stinger. While I did not get to see the Stinger today, it is only at Detroit show, I did get to see the Niro. This is a CUV and is is a hybrid crossover vehicle that is appearing at dealerships now or very, very soon. I liked the look of this vehicle and who knows, when my lease is up I may look toward leasing one of those. Although, what really has me excited is the Kia Stinger, it just looks so cool!
My day at the Boston Auto show was fun, my father and his friend came along with me. I ran from place to place taking photos and learning about the cars while they explored on their own for a bit. I went through the Kia vehicles and made a bunch of very short 360 videos of the interior of each car. I'm working on those and they will be on my YouTube channel soon. What is already on the channel is my video that I made today which features the Kia Niro.
Continue reading I set out to #DiscoverKia at the Boston Auto Show Today →