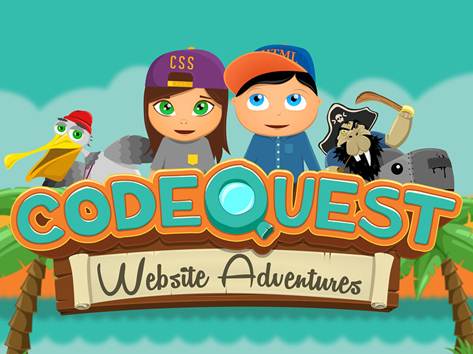 I love creating web pages and used to be a web designer. I'm excited about CodeQuest for Eva. Well be checking out this app together in the near future. If it can help her learn how to code that will be pretty sweet.
New Free App Teaches Kids How to Code Through Storytelling and Gameplay
Today Codarica launched CodeQuest, a free game app that teaches kids how to code, at The Walt Disney Company's Disney Accelerator Program Demo Day. With the free CodeQuest game for iPad, kids will learn basic HTML and CSS and how to create and style their first website through interactive storytelling and gameplay.
In CodeQuest, kids will progress through ten different mini-game levels, where they will learn about code through engaging stories and lessons, with the goal of creating their own website. Kids will be able to choose between different backgrounds, fonts, lists and colors to code for their personalized website. Throughout the game, kids will be tested on more than 100 snippets of HTML and CSS code. Once a child's website is complete, parents will be able to publish the site on Codarica's secure servers and then share it with family and friends.
Key features of CodeQuest include:
Interact, familiarize, and play with over 100 snippets of HTML and CSS
Test recognition of CSS and HTML tags
Mix, match, and uncover over 50 different combinations of frame colors
Style websites with over 50 headings and multiple fonts
Use the built-in camera to add a photo to the personalized creation
Securely publish the personalized, self-coded website on the web, and share with friends and family
Parental updates on coding progress throughout the app
No third-party advertising
No in-app purchasing
CodeQuest is now available for free on the App Store at https://itunes.apple.com/us/app/codequest/id919965565?mt=8.