Today I received my raffle prize from Market Leverage. They had a raffle to coincide with the Bowl-A-Thon that they had to raise money for the Niemann-Pick Children's Fund. I won a Fip Mino HD. It is pictured there with the Flip Mino HD that I bought recently and added my own branding to it. Allison is now the proud owner of a Market Leverage Branded Flip Mino HD. Look for it at IZEAFest 2009.
Since I don't live in Orlando I was unable to be there in person so I decided to do my own little bowl-a-thon of my own. I did it playing Wii bowling. I had two great games too with scores of 181 and 191. People could sponsor me at $0.10 a pin (and yes Stephen that is how you sponsor a Bowl-A-Thon pins = points for sponsors). I'm not sure if anyone actually did but I hope so. I bought 10 raffle tickets and sponsored Tim Jones at the true Bowl-A-Thon.
I also sent down some Photo-A-Day Calendars and a couple of BenSpark.Com Hats. The hats went to Dina Riccobono and she had the hats for a little while. She gave up the hats so that one of the participants could take one of them home. However, she took a picture wearing one of them.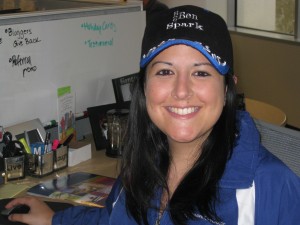 Today I also received a card from the Stults family. That was really nice of them. All the thanks is not necessary I'm just so happy to help people who need help.
If you'd like to help a cause you can check out Be Responsible: Blogs, Brews and Belly Laughs II. We are raising money for the Avon Walk for Breast Cancer with the team Walking 4 2nd Base. The event is at the Speed of Thought Playhouse.