I participated in a campaign on behalf of Dad Central Consulting for LongHorn Steakhouse. I received a gift card to facilitate my review and a promotional item as a thank-you for participating.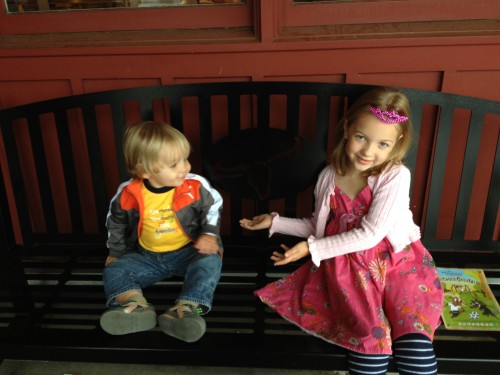 Last night I took the family over to LongHorn Steakhouse for dinner as part of this review. I love steak, my wife and kids do as well so this was a perfect fit for us. When I learned about this opportunity I decided to go for it despite having had not so stellar experiences at LongHorn in the past. I watch those mouthwatering commercials and get all fired up to go and then remember my last visit. Would the experience I had last night change things for the better? Keep reading to find out…
We arrived at LongHorn Steakhouse a little after 5:00pm on a Monday night. It was still pretty quiet and so we settled into our seats and looked at the menu. When dining with little ones (two under 6) the settling in takes a few minutes so I do appreciate it when we aren't immediately jumped on for our orders the minute we sit down. I felt that our server was a tad quick about wanting that order and not giving us much time to get settled with a high chair and a very excited 5 year old who asks 8 million questions. She did sense our frustration though and took our drink orders and let us wrestle our two little ones into their seats and get them entertained. Eva really liked the multi page activity book/menu. She's reading everything now and this kept her very entertained.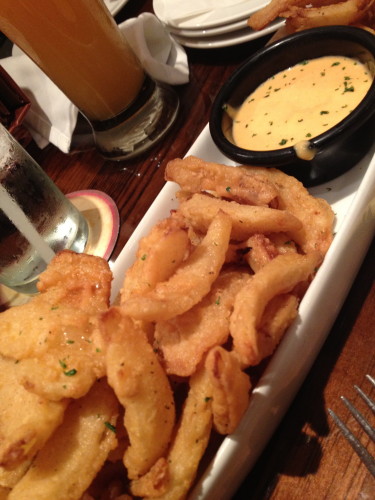 We started off with an appetizer which was the Texas Tonion®. A tasty take on onion rings. Instead of rings they are onion petals that come with a dipping sauce that I had way too much of because it was so delicious. Allison, Eva and Andrew also enjoyed the Texas Tonion® pieces. At the same time as our appetizer we were also enjoying the warm bread and butter.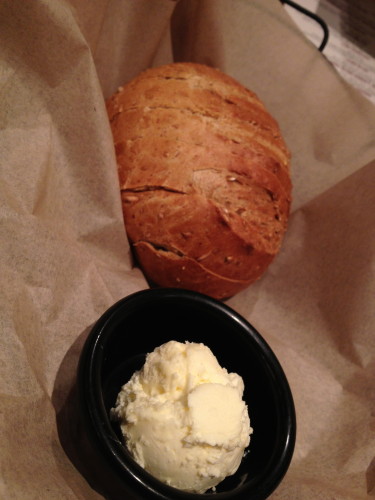 Well, Allison, Eva and I enjoyed the bread and butter, Andrew enjoyed the bread. Andrew has a milk allergy or rather sensitivity. Having milk products doesn't agree with the little guy so we try to be super careful with what he can have. We ordered him the grilled chicken tenders. We asked if they were prepared with butter because Andrew can't have that. Our server made a note of it and after we completed our order and she went to put the order in she came back with a more senior person who confirmed with us that Andrew had a milk allergy and assured us that his meal would be prepared entirely separate of any milk products. That felt really good that they came to tell us that.
We finished up with our appetizer and Allison's salad arrived and so did mine. Allison opted for the Ranch House Cobb Salad which looked and tasted great. I had a Caesar salad which was a typical caesar salad. I probably should have ventured to get a different side and try something else like the fresh steamed asparagus or loaded baked potato. Instead I got the Caesar salad and the Fire Grilled Corn on the cob, which was a very good choice. A bit pricey for a single ear of corn on the cob $3.99 if ordered alone, $1.59 up-charge if ordered with the meal. Allison's salad was an up-charge of $1.59 but the salad was so much more substantial than my Caesar that it totally made sense for it to cost more. But corn on the cob, nope.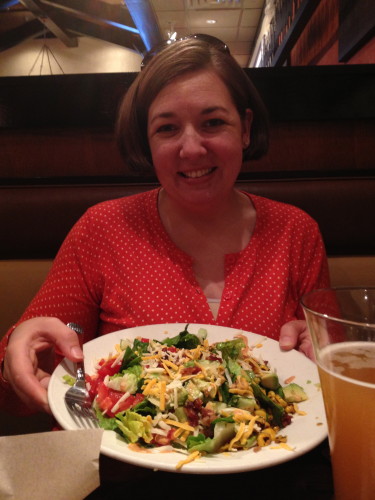 When our meal arrived I cut up Eva and Andrew's meals for them. Andrew ate with gusto, as he always does, barely stopping to breathe. Eva picked a bit like a bird and had half her steak (leftovers, we didn't have to cook for her tonight).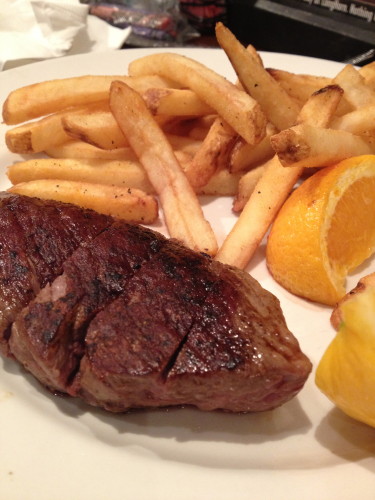 Allison got the Bacon Wrapped Filet perpared medium with a Loaded Baked Potato. Both looked very good and she enjoyed every bit of her meal.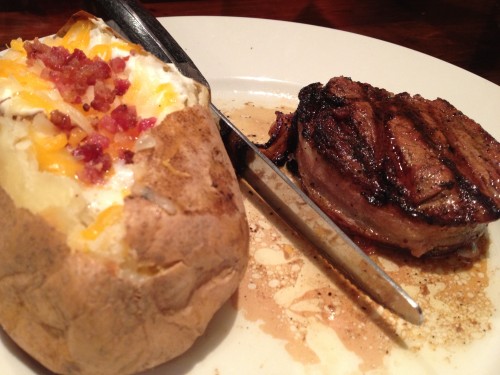 I went for it, I got the Outlaw Ribeye®* done medium and it was fantastic. Perfectly seasoned and it cut like butter and melted in my mouth. After having had some not so great meals at LongHorn in the past my faith was restored. So now I know, I have to go all out and get that cut that I really want if I am going to have the best experience I can possibly have. But we weren't done yet.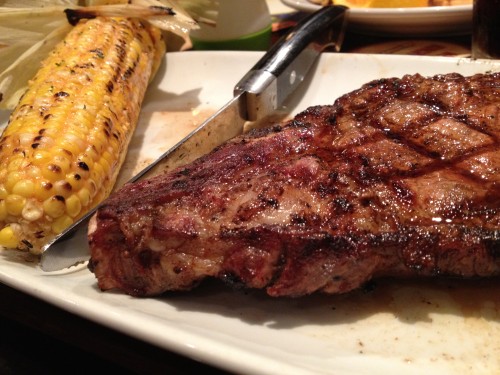 I noticed on the menu that there was a seasonal dessert called the Very Berry Grilled Pound Cake, it looked great. I am a sucker for strawberries and pound cake so we ordered that. We also ordered the Molten Lava Cake, Eva's choice. Surprise, surprise she still had a little room for dessert. Imagine that.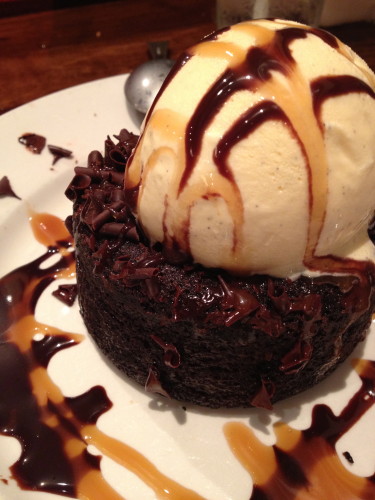 We should have just gone with the Molten Lava Cake because it was very good and the Very Berry Grilled Pound Cake was disappointing. It was pitifully small and lackluster, nothing like the photos in the menu. We got the whipped cream on the side for Andrew's sake and he enjoyed the pound cake and berries. It tasted good but I was expecting something a bit more.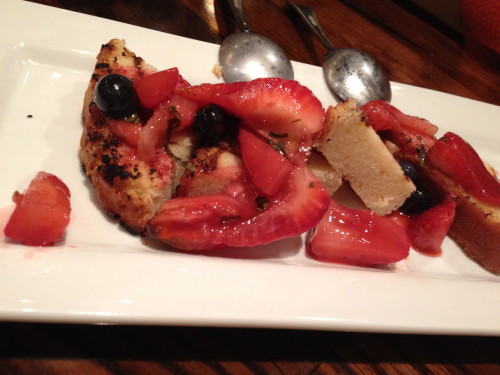 With our bellies full and the threat of an impending steak coma we took our leave of LongHorn and headed home. We'll be back. We'll be bringing our wallets, too because a family of four can quickly ring up a very large bill. We received a $75 gift card to do the review and still ended up paying $32 of our own money. We could have been more frugal and picked different options, no appetizer, standard sides and no dessert, but where's the fun in that?
Typically on Father's Day I want to have the family home, be off of work (I work weekends) and just enjoy grilling up our dinner which usually is some form of steak. This Father's Day I think we are going to do that with my Father-In-Law and I look forward to preparing the menu selections. However, if you are going to take Father's Day off from the grill and let someone else prepare your steak you will probably have a decent time at Longhorn Steakhouse. If you are going to Grill on your own though then take a look at these great grilling tips from Longhorn Steakhouse.
For me, a can't miss Father's Day gift is something for the grill, or a new grill. I actually grill on two grills, a charcoal and a gas. The Gas could stand to be replaced with something more modern and which will heat everything consistently and evenly. It was a hand me down so can't complain. Just got to save up for a new one for next season, we'll squeak one more season out of this one but I have been eyeing the new ones. Whatever I do end up grilling though is going to go great with the set of LongHorn Steakhouse signature steak knives that we received as part of this review. Those knives are available at LongHorn Steakhouse for $29.99 in a set of four. They are high quality heavy knives that helped me cut through a kid's steak, grilled chicken tenders and that outlaw ribeye. They are very nice knives.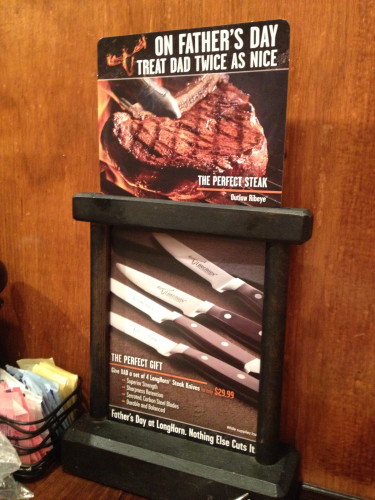 Copyright (c) 2020 BenSpark Family Adventures