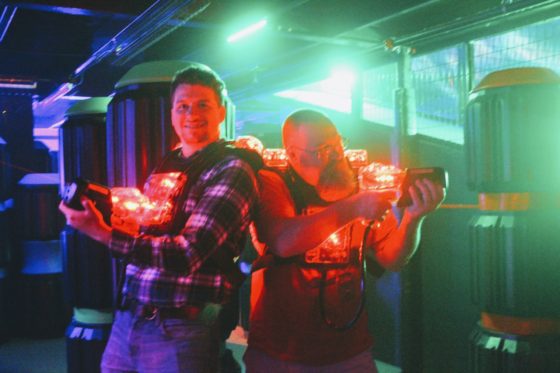 Photo by Gilda from Evan and Lauren's Cool Blog
Today I teamed up with a group of great bloggers to check out the new lasertag Arena (LASERTRON) at LaserCraze which will soon be called XtremeCraze. This was a sponsored event and I received some great stuff while I was there like lunch, a free game of lasertag, a game card and more. Opinions are 100% my own.
This was such a fun day. I enjoyed playing lasertag so much. The new lasertag system is incredible and the arena is amazing with two levels. Everything worked so well, too. The laser guns and vests were so responsive and they even had power ups that you could select and use each game. But more about that below.
XtremeCraze has much more than lasertag on premises. Inside the building there was 22,000 square feet of lasertag play using both level in an upgraded LASERTRON arena. There was also the Adrenaline Zone which was an inflatable obstacle course. They had a great Gaming Zone and also Craze Cafe, the pizza cafe.
Owner /operator, Greg Hughes personally hosted us and played along with us in lasertag. He spoke with us all about the facility and also gave each of us a Game Room card. This card has all your credits for the video games but also has your information for playing lasertag as well. Each time you come in you can just slide your card to be recalled. The card also holds all of the tickets that you have accumulated while playing the different video games.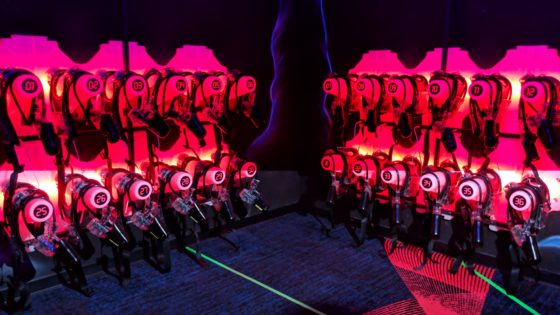 We were then brought into the lasertag arena, LASERTRON. We went through an orientation as well as a video about the rules of gameplay. There we learned more about the different modes of the laser gun. There are quite a few that you can use to make the game all sorts of challenging. The different modes are called C.H.I.P.S. which is an acronym for Competitive Human Interactive Player Software. There are nine power up modes for your laser gun. I'd list them all out right here but you can find the C.H.I.P.S. Modes on the XtremeCraze website. I tried a bunch of them out as we played four different games.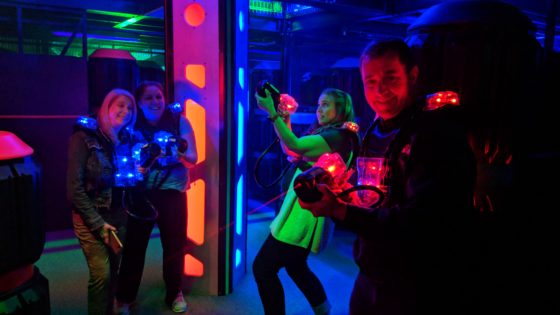 When you come to XtremeCraze to play lasertag you play for about 40 minutes. You start with orientation and then have 4 5-minute games. The way we played was two teams versus each other where you try to score as many points as possible. You get different points for shooting shoulders, the laser gun, the front and back of the vest and you get the most points when you attack the other team's base. There are some great places where you can hide and just attack that base with abandon! But, I'm not going to share that, who knows, you might play me someday.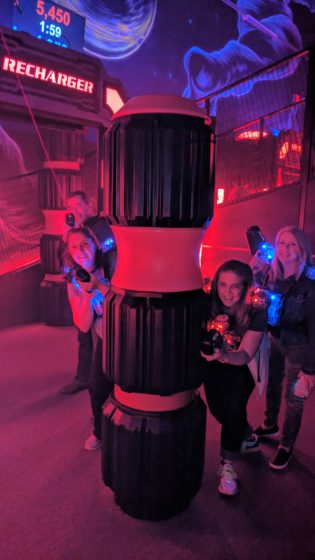 During one of our games we decided that half the group would play and the other half would take photos. I had as much fun going around to take photos of everyone playing.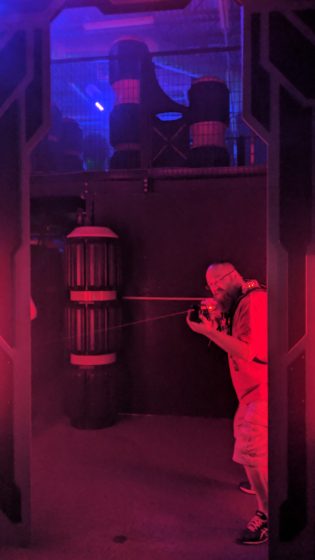 Greg Hughes took this photo of me . I love how the phone caught the laser beams on the laser guns. Each one has a beam that you can see and one that you cannot. The one that you cannot is the one that actually hits the sensors on the vests and the base and the guns. I cannot even say how much I enjoyed these games. I could have played all day.
After our game we had some pizza from the cafe and got to talk more with Greg Hughes. I may have some great news soon, but I cannot say at this time. I hope to be able to share it with you very soon. The pizza was tasty. After everyone left I continued to look around the place and also play all the games my heart desired with the game card that Greg gave each of us.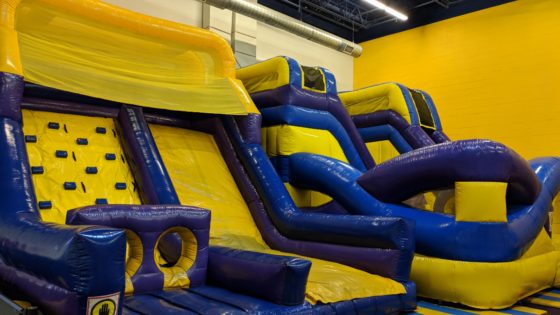 This is the Adrenaline Zone and it is for kids from ages 2 to 10. We'd better get back before Eva turns 11 because she'll love playing there as much as the lasertag. I know that Andrew is going to love lasertag more than ANYTHING. He loves playing it, so much.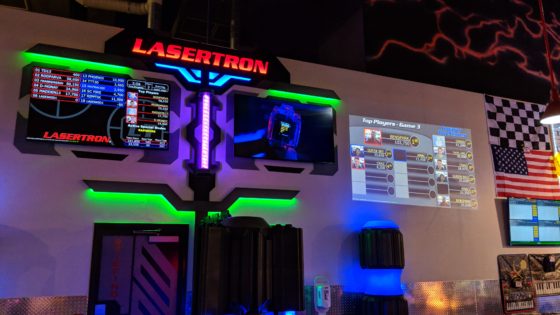 When you set up your profile for lasertag you also take your photo. Your photo is displayed along with whatever nickname you'd like. I snagged this photo of the outside of LASERTRON because it shows me with a whopping 103,000 points.
Like I said, there is a large gameroom at XtremeCraze, too. They had some really fun games and they were all $0.25 – $1.00 each play. No weird numbers that you had to figure out. You could spend everything on your game card without a crazy odd amount left over. I was given a $25 card and I used all of it. I actually amassed 1735 tickets because I won 1,000 tickets from a lucky spin game. I was psyched. They also had a great Kung Fu Panda game that I played to get 100 tickets each time. That one was really easy and so much fun. I used my tickets to get a silly hat and a flashing blue police light. I think it was the first time that I ever had so many points at a game place like that. It was a super fun day and I am looking forward to going back, soon.
Copyright (c) 2020 BenSpark Family Adventures