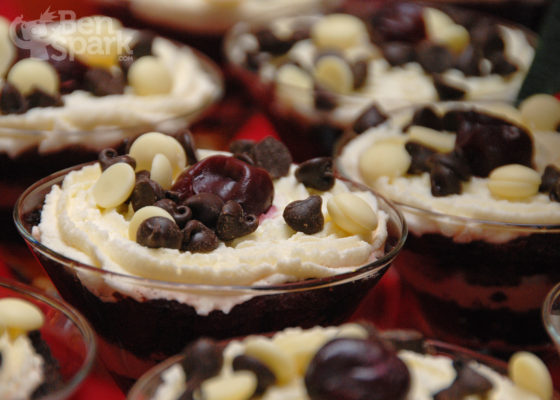 Photo-A-Day #2085
Today was the annual Company Christmas Party. I am very lucky to be working at a place where the company still does events like this. The party is so large that it ends up being split between two buildings. At each place there is a fantastic spread of food. Shrimp, Kobe sliders, a raw bar and so many fantastic desserts.
As you know I am now part of a group called Road to Thin and as such I am trying to be better about my choices on what to eat. Today I picked up a small plate and filled it with 4 shrimp, one slider, a piece of sushi and some chowder. I also had one chocolate covered strawberry and one snowflake sugar cookie. Much less than I have eaten in the past.
Even though my friend Daddy Claxton is on a campaign to give Santa more healthy snacks, Allison has made some fantastic cookies for Mr. and Mrs. Claus. The other day I was contemplating a hot and spicy chocolate chip cookie and Allison decided to make some for me. She made some chocolate chip cookies with cayenne pepper and cinnamon. I had a couple tonight and they were fantastic!!! I love having spice with chocolate.
However, if you would like to help Santa lose a few pounds try some of these snack alternatives:
½ cup granola with a sprinkle of dried cherries and unsalted nuts and 1% or skim, fat-free milk or plain or light yogurt
Red/yellow/green pepper strips with nonfat sour cream or hummus dip
Grapes or apple slices with 1 oz of cheese or peanut butter
Air-popped popcorn
Hard cooked egg with a dash of spicy mustard
Berries with 1 oz of ricotta or string cheese
Sunflower, pumpkin or squash seeds
Sugar-free Jell-O
Plain or light (sugar free) yogurt
Smoked salmon and cream cheese on cucumber slices
Lettuce Roll-ups –- Roll luncheon meat, egg salad, tuna or other filling and veggies in lettuce leaves
Whole-grain bagel (3 inch) topped with natural peanut butter
Bagel chips or baked tortilla chips with salsa
Spread all natural, low sugar peanut butter on a celery stick, pretzel or banana
Pita bread stuffed with lettuce, tomato, cucumber and low-fat dressing
Also, check out Santa doing the EA Sports Active 2
workout. (aff link). Merry Christmas!
What is Drew Shooting with?

Model: NIKON D80
ISO: 400
Exposure: 1/60 sec
Aperture: 6.3
Focal Length: 135mm
Flash Used: Yes

This is my own personal DSLR camera that I bought half of. My mother-In-Law bought the other half as an investment of great photos of her grandchildren. With over 26,000 photos of Eva and counting, I'd say she got great ROI on the investment. The opinions about them are 100% mine.
How Does Drew Protect His Photos?
Copyright (c) 2020 BenSpark Family Adventures