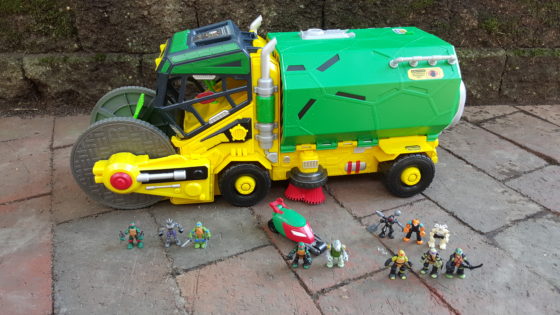 Photo-A-Day #4530
Playmates Toys sent us a Teenage Mutant Ninja Turtles – Micro Mutants Sweeper Ops Vehicle and Playset for free to play with and review. They also sent along a Stealth Bike pack with Raphael and Rocksteady and a bag of loose Micro Mutants. Opinions are our own.
I was excited to try this one out because I had just tried out another vehicle that did sweeping up of toys and I didn't think it performed as well as it could have. I was interested to see how this one worked. It worked really well. The sweeper pushed the toys right onto a conveyor belt that would then deposit the bad guys into a little detention center inside the playset.
The playset itself was also really well done. It not only works for the micro-mutant scale figures, which are as small as my big thumbnail, but they also work for the 4.5 inch figures. It is great to have a toy that works with both sizes of characters. You can probably also use the 2.5 inch figures as well, they might be a little small for one part of the toy and too big for another part but there certainly are spot where they could could be used.
I loved the detail on these figures. They are so small but look so good and they even have little tiny weapons. The weapons, however, feel to me that they will get easily lost, especially with kids. I had to keep looking for them when we were making our video.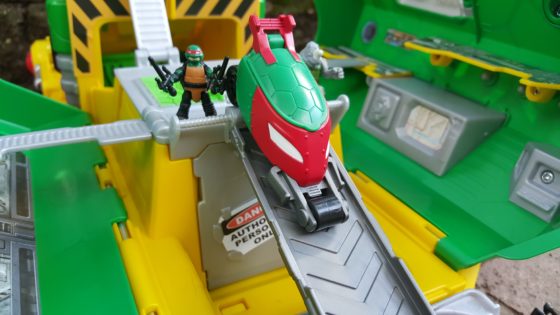 I like how we also got the stealth bike with Raph and Rocksteady. This was a great micro-mutants scale vehicle which can be used with the Sweeper Ops Playset. You can make the Stealth Bike go down the ramp and when you are done playing for the day you can store it inside the Sweeper Ops vehicle.
We enjoyed these toys. There were multiple points of playability, too. Andrew asked for this to be one of the toys that he can keep in his room. That means he likes it, a lot.
Copyright (c) 2020 BenSpark Family Adventures