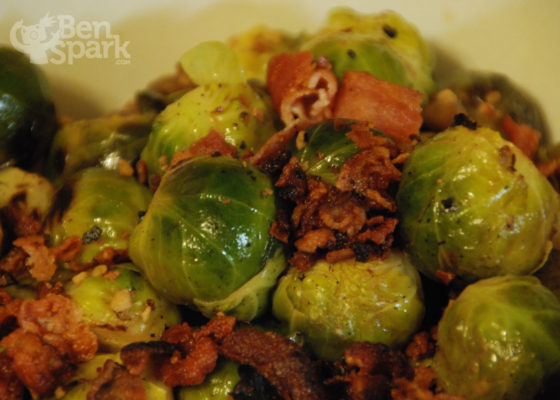 Photo-A-Day #2096
Tonight Allison made an batch of Daniel M. Clark's Best Damn Brussels Sprouts. As I attempt to get healthy I am exploring different foods that are better for me than others. I'm trying to eliminate extra carbs from potatoes, white rice and more. I've gotten into eating Quinoa as well. For a while I had been eating half sandwiches but I'm not using bread anymore in those sandwiches but instead wrapping some chicken or turkey in lettuce for my lunch. Eventually I'll work on more variety in the lunches as well. I love how the Brussels sprouts and bacon looked, very colorful. The one thing that I'd say about it was that they were really hot, the red pepper flakes were absorbed into the broth. Other than that they were great!
Yesterday the home desktop went kahflooey and I had to boot it from the CD. So thank goodness I have some Seagate GoFlex drives. I've been automatically backing things up but I went and also made a manual backup of the contents of the computer. I'm thinking I should wipe the computer and see about formatting it to fix it. I'm not sure if it is a software or hardware issue but am not taking any chances. Glad I have those drives.
I'm headed to Affiliate summit on Saturday and on Saturday night Buy.at is having a party. At the party they will be featuring different cocktails and I submitted one. I call it BenSpark's Pinkeye Punch. I would appreciate your vote in my favor.
What is Drew Shooting with?

Model: NIKON D80
ISO: 1600
Exposure: 1/10 sec
Aperture: 6.3
Focal Length: 250mm
Flash Used: No

This is my own personal DSLR camera that I bought half of. My mother-In-Law bought the other half as an investment of great photos of her grandchildren. With over 26,000 photos of Eva and counting, I'd say she got great ROI on the investment. The opinions about them are 100% mine.
How Does Drew Protect His Photos?
Copyright (c) 2020 BenSpark Family Adventures