A couple of weeks ago I attended an incredible Kia Stinger event in North Hollywood, CA. This was an all-expenses paid trip. Opinions are 100% my own.
When I first saw anything about the Kia Stinger I fell in love. It was love at first sight because I only saw the beautiful lines and look of this vehicle. I knew nothing else about it. That all changed when I was introduced to the Kia Stinger at a special event in North Hollywood, CA. I was invited to come and drive the Kia Stinger over the course of a couple of days and also learn all I could about the car. There was plenty of information coming at me as fast as that top speed of the Kia Stinger (167mph).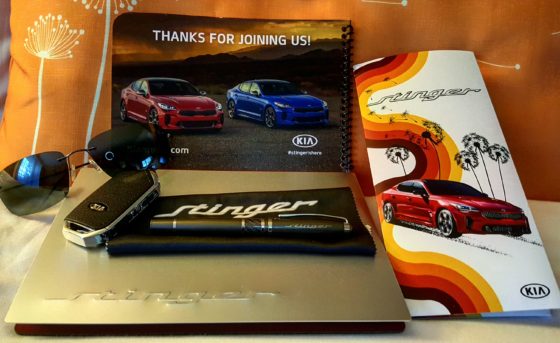 We stayed at The Garland, a quirky and fun hotel. I had never been on a Kia event before and I have to say, Kia covers every base and looks at every detail. The Garland has a cool 70's feel and that was something that people get from seeing the Kia Stinger. The materials that we received were designed to incorporate elements from The Garland. Notice the orange pillow. The floating dandelion seeds on it and then look at the Stinger Pamphelet. How cool is that. We even received some sweet shades from Maui Jim as part of this event. Those were perfect for the California sunshine.
Before I get going too far you should watch this video above, it hits many of the major details for the Kia Stinger. I'm not incredible informed when it comes to cars. I can't tell you the reasons why there are differences between cars but I do love driving them and i know when I am having fun. I was having a ton of fun in the Kia Stinger. One thing I do know is that this car was built for four adults to take an amazing trip. This would be a fantastic car for a family of four to go on so many adventures together. Just look at the room in the hatchback. What I liked about the hatchback was that it didn't feel like a hatchback at all. What an incredible feat of design.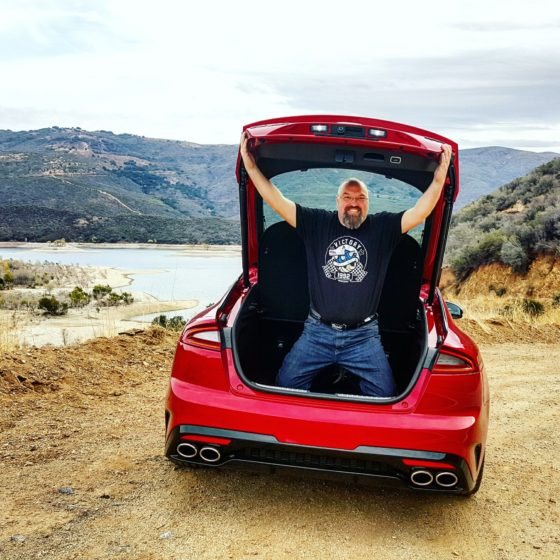 I got to drive with a fun partner, Tessa Smith of Mama's Geeky. We spent so much time talking about everything. The conversation never died either. When you are taking a road trip with someone there are many factors that make it the best. Conversation is a big one and we had so many things to talk about. We had just been on a trip together in October, too. We had attended the Thor Red Carpet trip for Disney. So we had comics and movies to talk about and so much more. The other factor is that you gotta trust the other driver and their skills. I was completely comfortable with Tessa's driving even if she said that she was a much more agressive driver in her heyday. Here we are zipping along the roads of the Angeles National Forest.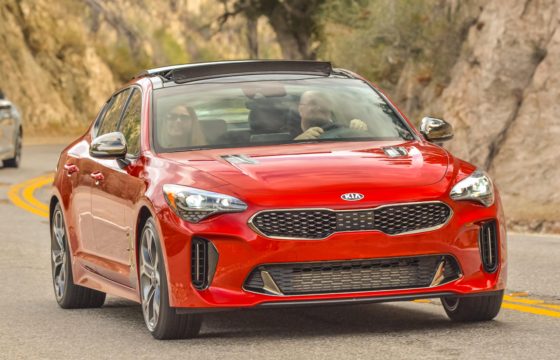 On the day of our test drive we had breakfast and then picked our car. Our destination was the Angeles National Forest. This is a mountainous national forest and it has amazing windy roads and some great views. We stopped and took photos as often as we could all the while trying to keep up with the rest of the drivers because we had a special destination for this trip.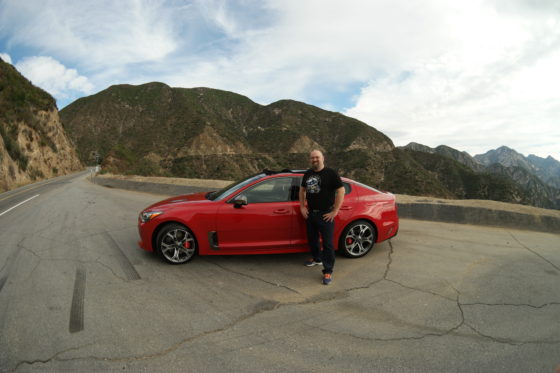 The time passed quickly and we even had a fantastic soundtrack with Rock Sugar blasting through the 15 Harmon Kardon speakers and QuantumLogic Surround Sound. The Kia folks even provided us with special media files of songs to play that would showcase what the speakers and sound system could do. Again, they thought of every detail. We drove along according to our trip route in our trip route binder and stopped at the halfway point to switch drivers. We had actually stopped just before that to switch drivers. It was Tessa's turn at the wheel.
Our second half of the drive wound us through the mountains and let Tessa test out the twists and turns. I wanted to the some time to see what it was like to be the passenger in the car and so I hopped in the back seat. I guess it wasn't the best time to do that because the photographer for the event captured Tessa driving in the car and it looks like she was alone but I was sitting back there in the back seat, unseen. The trip was fantastic and our final destination was to Six Flags Magic Mountain where we were going to take out the Kia Stinger on an Autocross that was set up in the parking lot. There we got to compare what it was like to drive the Kia Stinger vs the Infiniti Q50, Porsche Panamera, Audi A5, Lexus GS, and the BMW 440i GC. These are some of the cars that compare to the Kia Stinger for many factors. You can see the comparision guide here.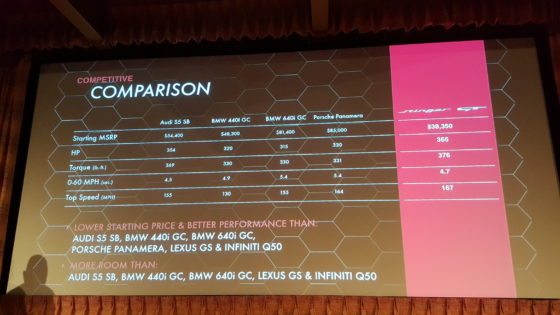 That isn't the best picture so I am going to include another comparision chart that I found on Tessa's post. That must be from the Kia site. This is a much more comprehensive comparison chart.
While at Magic Mountain the Kia team treated us to some amazing food trucks. There was a dining area out under a tent and then the whole parking lot was set up for the Autocross. Tess and I opted to eat first and then drive. Once we were finished we took a ride with John Dominguez, Product Communications & Social Media Manager for Kia. He had this beautiful blue Stinger and he really drove the heck out of it on the Autocross. That gave Tessa and I an idea of what we could do with the car. That drive was captured by the Kia event photographer.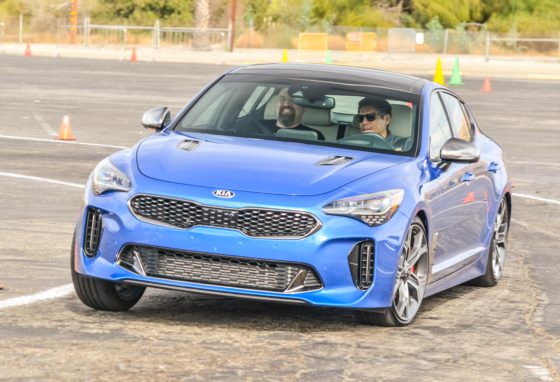 Another sweet blue Stinger was the one that West Coast Customs customized. That was on hand as well as a custom Orange Stinger. Bother were beautiful and it was such a cool backdrop to have those roller coasters in the background.
there is so much more that I could say about the Kisa Stinger. it was so much fun to drive. You can see what it was like being my passenger on the Autocross in this video.
Till the next time around! Oh wait. I discovered this incredible video from a couple of guys who must have been on the first wave of this Kia Stinger Trip. they are out of Canada and I just loved the way that they talked about the car. If you are into cars and want more details than I gave you, check out The Straight Pipes video below.
Copyright (c) 2020 BenSpark Family Adventures